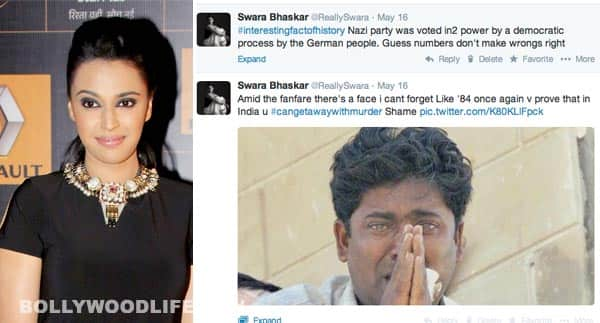 skip advertisement
The social media is full of political debates these days and the Raanjhanaa actor faced the ire recently
Not so long time ago, Sonam Kapoor was having a tweet battle with Suchitra Krishnamoorthy coz the latter tweeted something derogatory about women. Reportedly, Suchitra had tweeted, "Kirron Kher win over Gul Panag. India needs strong women & mothers not cleavage flashers." Well now, of course, the fashionista of B-town was angry and retaliated, "i cannot believe a woman tweeted that. It's disgusting. Women are the biggest enemies of women." Now we hear that Sonam's Raanjhanaa co-star Swara Bhaskar got in a tweet battle too.
What happened, you ask?
Well, Swara Bhaskar posted some anti-Modi tweets and of course, Narendra Modi supporters sent in loads of hate tweets to the actor. She not only posted against Narendra Modi but she also questioned the 2002 Gujarat riots. Following this, her Twitter page was flooded with angry hate tweets by Modi supporters many of which resorted to personal insult and jibes, name-calling and some to even abusive language.
After being hit by the storm filled with hatred, Swara remained cool. She tweeted, "No, i don't have a Muslim boyfriend. I have a brain, an education and an opinion. #sorryicanthink And yes, i did vote! :)"
Well, while we understand that we have the freedom of speech in our country, wethinks that one needs to use it wisely, hai na?