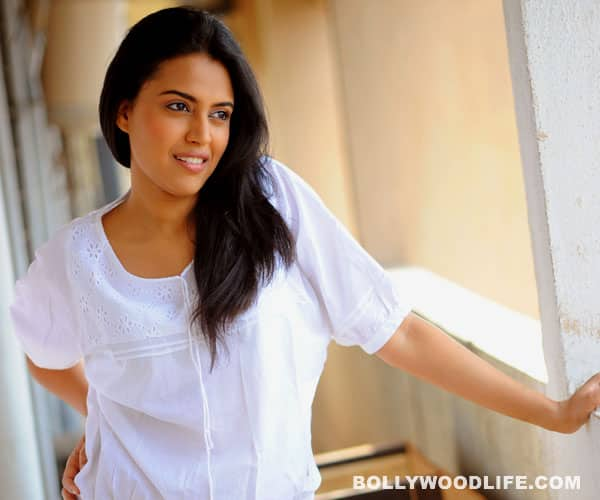 Working with stalwarts could get a tad difficult. But what was the chemistry like between the dusky lead actor of Listen…Amaya and our favourite Chashme Buddoor jodi? Read this exclusive interview with Swara Bhaskar to find out!
Writer-director of Listen…Amaya, Avinash Kumar Singh describes Swara Bhaskar as: "a hurried ball of bags and hair and noise, who stops by our table, chatters with the person I am with and runs off". And maybe it was this first 'real' look that made him call Swara 45 seconds later to ask her to work as the lead in the movie that also stars Deepti Naval and Farooq Sheikh.
But what about Swara? What made her say 'yes' to the film even when she didn't agree with Amaya's character? What's her relationship like with Farooq Sheikh and Deepti Naval like? And in the end, how has this one changed Swara's life? Read on to find out…
Tell us something about your role in Listen…Amaya…
Amaya is a young, confident, urban bred girl. She is a bit of a spoilt brat, but a warm, loving and spirited personality. She is used to her mother's undivided love and attention. She is also headstrong and possessive and has a definite opinion on everything. I joke with the writer Avinash (Kumar Singh) and his wife Geeta Singh that Amaya is actually the villain of the film.
What made you say 'yes' to this role?
Soon after the release of Tanu Weds Manu, Avinash got in touch with me and we met. The moment I heard that Deepti ma'am and Farooq sir were doing the film, I felt inclined to say yes. Then I read the script and liked it. I found the part of Amaya challenging and interesting. So I agreed to do it. I keep telling Avinash that he bribed me by mentioning names of Farooque sir and Deepti ma'am!
What broke the ice between you, Deepti Naval and Farooq Sheikh?
Both Deepti ma'am and Farooq sir are very warm and generous people. And they made me feel very comfortable. We met a few times for readings before the shoots and that's when the ice broke. I really enjoyed conversations with them. With ma'am the conversations were more personal, about life and relationships. Sir is such a fund of knowledge and stories. He is so well read about literature and current affairs and food! I really enjoyed spending time with and shooting with them.
How did you prepare for the role of Amaya?
My greatest challenge when prepping for this role was to understand Amaya's anger and bring it to life with conviction, given that I don't theoretically agree with her position. I had to play with conviction a character I actually thought was behaving like a spoilt brat and deserved three slaps! I realised I needed to portray Amaya's vulnerability, show that she is after all a child acting from the fear of losing her mother and the inability to let go of the memory of her father. That doesn't make her a bad person. I hope I've managed to do justice to this grey character.
Did you receive any 'gyaan' from Deepti or Farooq?
Just watching them both at work was a big lesson for me. They are both so effortless and easy in front of the camera; their performance is so fluid yet convincing and intense. That's a great lesson for an actor and the toughest thing to achieve in one's performance. I would just sit and watch them do their shots. They were a great pleasure to work with. There was no pressure as such, just a lot of excitement. We would do our lines and discuss the scene, laugh and joke a lot. We even improvised quite a bit, as we were very comfortable.
Which was the most difficult scene for you in the movie?
My toughest scene was one where I had to yell at Deepti ma'am and tell Farooque sir to shut up. I had to maintain a balance between being angry and pained and also bring myself to be SO rude to these two icons! I apologised to them profusely later.
How close are you in real life to the character of Amaya?
Well, not too similar, I hope, because I keep joking with director Avinash Singh that Amaya is the villain of the film. On a more serious note, definitely every actor brings something of their own personality to the roles they play, so Amaya's energy and vivacity I think is mine. Also, I too love books and am an occasional writer. Other than that the differences – Amaya is a fitness freak and I'm a lazy bum! And also I feel Amaya's reaction to her mother is very different from what I hope mine would be in a similar situation.
Who do you think is the target audience for Listen…Amaya?
I think anyone who likes a good story and remembers the magic that Farooq sir and Deepti ma'am create onscreen when together. Well, definitely anyone between 20-60 years will relate to this film. In fact, I believe only the most hardened cynic will remain unmoved by it.
Has this movie changed you in any way?
I think it made me realise that often as children our love for our parents becomes very selfish. We only see them as father or mother, not as individuals with their own identity and existence outside family and kids. That's the most profound and important lesson I learned on this film – that parents are also people!
What other projects are you working on?
This year after Listen…Amaya, I'm looking forward to the release of Aanand Rai's Raanjhanaa in end June, and Yash Raj Film's Aurangzeb directed by Atul Sabharwal in May. I play really interesting and totally opposite roles in both films. Later in the year will be Sabki Bajegi Band directed by Anirudhh Chawla and Machhli Jal Ki Rani Hai directed by Debaloy De. I'm keeping my fingers crossed – if all my films release, I have five releases this year!
Tell us about your journey in Bollywood. What do you aim for?
I think I've been very lucky and Bollywood has been very kind to me. I've met good people and done good work so far. My role in Tanu Weds Manu won me six nominations and the Zee Cine Award for Best Supporting Actress. I now aim to do meatier and more challenging roles of all kinds in bigger films with big stars! I hope to build a credible and diverse body of work that will remain and be remembered, and that I can be proud of.