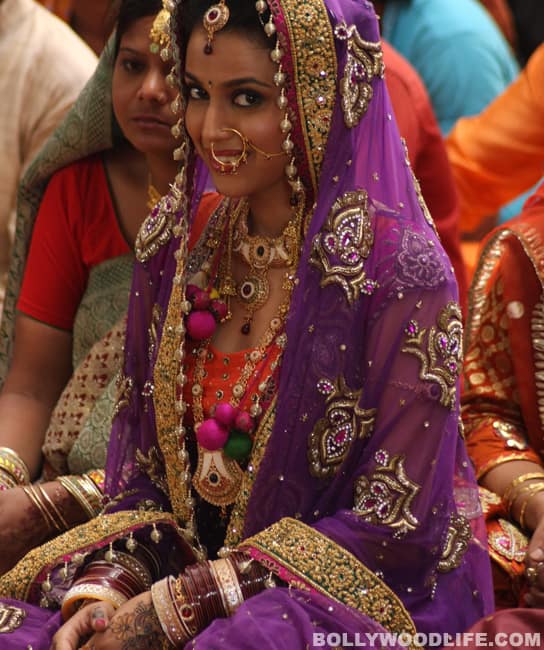 Though she is four films old in Bollywood, her performance as Payal in the R Madhavan-Kangna Ranaut-starrer Tanu Weds Manu won her a Best Actor in a Supporting Role trophy
It is tough being an outsider in B-town and tougher to say 'no' to lucrative offers from big production houses even if the roles offered are not very significant. Swara Bhaskar is doing that and more while she hones her craft by attending acting workshops and watching films. She spoke to us about her eclectic journey, her greed as an actor and her experience at the awards ceremonies she recently attended.
How did you bag the role in Tanu Weds Manu?
I knew the casting director (Rajshekhar) and had collaborated with him earlier for a project. When they were casting for the film, I was asked to audition for the role, which I did. I didn't hear from them for a while and then one fine day I was called to audition again for the same part and I was taken on board almost immediately. The moment I read the script, I knew the film would work. My instinct may fail when it comes to me, but for others, it works like a charm.
You always wanted to be actor?
I am trained in classical dance and had been actively participating in a prestigious Delhi theatre group. Deep down inside I knew I wanted to be an actor and it was gnawing away at me from within. I thought I would rather give it a shot now, than regret it later for not trying.
Were you flooded with offers after the movie succeeded at the BO?
Of course, but sadly everyone, including the big production houses, offered me only supporting roles, which I wasn't keen on doing. For about six months I was saying just no to the offers coming my way, till a point where I thought I should have a caller tune that would say, 'If you are calling me to offer a supporting role, please hang up; if not, let's talk.' As an actor I am greedy for doing meaty roles. Having said that, if a supporting role does offer me a challenge that I would love to take up and the exposure that comes from doing a commercial film, I would do it.
After all, the only thing an actor wants is an audience. I would not be very comfortable being the most famous person in the film. I want to break into the bigger league. I wasn't the first choice for the role in Tanu Weds Manu, but somehow I got it. Now I am in a position to choose from the roles I get offered. In my next film, Listen Amaya, I am playing the title role and will be sharing screen-space with Farook Sheikh sir and Deepti Naval m'am. For me it's a dream come true!
What was the experience like, working with such phenomenal actors?
As I am not a trained actor, I am learning all the time. It was an overwhelming experience working with Farook and Deepti. We had a great time shooting for the film at real locations in Delhi. Both my co-stars are legends in their own right and I was taken aback by the goodwill they still command.
Tell us about your experience at the awards ceremonies…
Having been nominated in almost all the awards and competing with such big names in my category was an award in itself. Of course it would have been embarrassing if I hadn't won any award despite so many nominations, but am glad that I won at the Zee Cine Awards. The ceremonies were awesome and I was surprised at the energy levels of performers like Shahrukh Khan and Shahid Kapoor. Performing in front of a live audience is a big challenge as an actor (which I learned during my theatre days) and they all left people thoroughly entertained. I met the stars that I have grown up watching at the awards parties and they were all very warm and encouraging. Shahrukh Khan kissed me and made my day! Going by my experience at the awards ceremonies I can say that the industry is a nice place. Also, I have finally learned the routine of walking on the red carpet and posing for the cameras.
What are the films that you have signed?
It is a little too early to talk about them, but there are some interesting projects in the offing. There is a Telugu film in the pipeline which I will do because I will get to learn a new language and as an actor it will be an addition to my skills.
As an actor, how much are you dependent on the director?
Fully dependent! Of course there are some nuances that the actor brings into his character, but most of the credit goes to the director. A good actor can turn an average scene into an excellent one, but a bad actor can make a brilliantly written scene look bad on the screen. The same goes for the directors as well. I was stunned when I saw Divya Dutta in The Last Lear and Delhi 6. Hrithik Roshan in Jodha Akbar was superlative, especially when it came to speaking in Urdu. I also hold Amitabh Bachchan and Shahrukh Khan in the highest esteem, because their command over the language is amazing! Coming back to the question – the character that I played in Tanu Weds Manu was exactly how director Aanand L Rai wanted me to essay it.
What kind of films do you love to watch?
I am a total Bollywood film buff and am not much into world cinema. I have seen my share of those, but it doesn't excite me like Hindi films do. My mother wants me to watch world cinema, but I prefer Amar Akbar Anthony any day!
Click here to read about the sequel of Tanu Weds Manu
Click here to read how Kangna Ranaut is competing with Kareena Kapoor