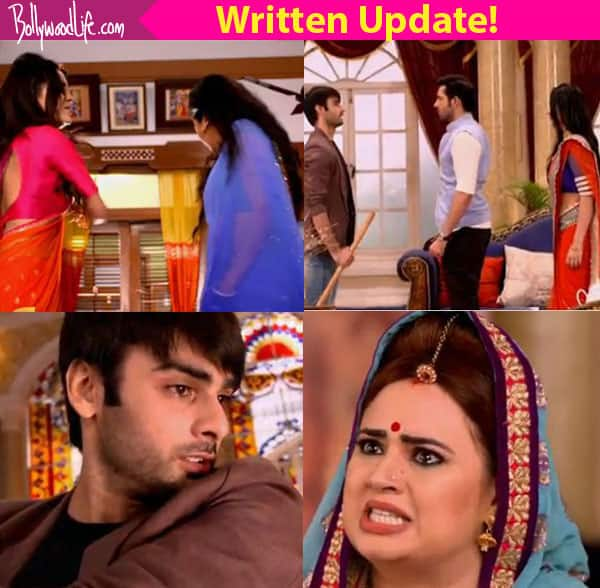 Swaragini begins with Swara (Helly Shah) and Ragini (Tejaswi Prakash Wayagankar) slapping each other. Shekhar (Sachin Tyagi) walks in and asks why are you girls fighting when you need to be together in these tough times. She narrates the entire story of how Laksh (Namish Taneja) was trapped into a smuggling case. Sanskar enters into the Maheshwari mansion. The watchman halts him. He says if you have ever respected us then stay back. He screams Adarsh Maheshwari. Parineeta tells him to enjoy his tea. Adarsh says it is Sanskar's voice. He walks in with a wooden stick. Adarsh looks on shocked. Parineeta gets up from her seat and asks what happened. Adarsh says what are you doing Bhai? Sanskar says I respected our brotherly bond a lot. He says you broke our relations, I will break your ego. He says a duty of an elder brother is to correct his younger siblings. He says I knew you were a bad person but you are horrible. He said you robbed our home but you separated Laksh and me. You have to come to police station with me or else I will kill you. Adarsh says what rubbish are you talking, leave from here. Sanskar grabs him by the collar and hits him with the stick. The brothers fight. Parineeta rushes to him. He is about to hit him but Parineeta comes in front. She begs for his life. Sanskar says I heard that bhabhi is like a mother but you only stink of greed. There is no maternal instincts in you. Sanskar says you are a cheat, you kept our parents in store room and separated us. Adarsh says why do you want to commit a crime and dirty your hands. He says sometimes to clean the muck one has to get his hands dirty. He says I will hit you. He is about to beat him but Annapurna holds his hand. She tells him to hit her. He says Adarsh conspires against us.
In Baadi, Shekhar tells Swara and Ragini that they have two problems, one is saving Laksh and Ayush. Swara asks what is happening and we need money desperately. Ragini says she has little time. Shekhar tells her that you need to support each other. They overhear Daadi (Alka Kaushal) talking on the phone to a friend. She is heard telling her that she will give her Rs 10 lakhs and she has the money. The sisters look on. Ragini and Shekhar decide to approach Daadi. Swara tells them to stop saying how can you trust her. Shekhar says I cannot let my ego come in between my son's life. Ragini pushes her aside and they go to Daadi. Swara remembers Shekhar's words when he left the home. Shekhar and Ragini walk towards Daadi.
Annapurna tells Sanskar to leave the Maheshwari mansion. She says I saw the video where you implicated Laksh. She calls him a fraud, she says you pretended to be a ideal son. Annapurna says you were always a cheat. She says you became so greedy. Annapurna says at what price you became rich. (Also Read: Varun Kapoor celebrates his birthday with Bollywood Life)
He says Maa.She says shut up, I hate it when you guys call me Mother. She says I cannot expect anything from you. She says I kept Sujata like a younger sister but she stabbed a danger in my heart. He says mom is not in town. Annapurna says I heard what Adarsh told your mother. He calls Sujata. She says I got the one crore which you sent me. When will you send me the remaining nine crores, asks Sujata. Ragini and Shekhar enter inside Daadi's house. He says we need money desperately. He falls on her feet saying my son is about to die. Ragini cries Daadimaa please help me. Daadi stares at her. She falls at her feet. Ragini says I have to free Laksh and need Rs five lakhs. Swara looks at the scene with tears rolling down her eyes. Ragini weeps and her tears fall on Daadi's feet. Yaa Devi plays. Daadi gives a nasty and victorious look at Swara.