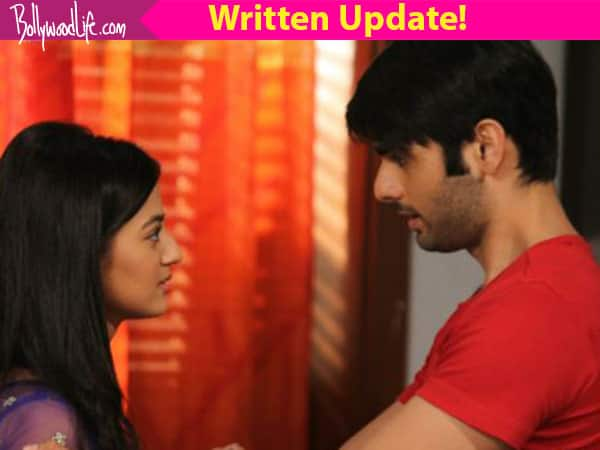 Swaragini begins with Shekhar (Sachin Tyagi) and Ragini (Tejaswi Prakash) trying to talk to Daadi, who is pretending to talk to Sumitra. Shekhar begs in front of her and says he needs money for Ayush's treatment. Daadi smirks. Swara (Helly Shah) cries. Sanskar (Varun Kapoor) takes the call. Sujata is on the other line. She tells him to take Rs 9 crores from Adarsh and come to her. She says she cannot live in poor conditions anymore. She says you come to me. Sanskar shouts mom. Annapurna says you heard her didn't you. Durgaprasad is shocked. Adarsh says will you take the money with you or should I transfer it to her account. Sanskar gets upset and tells Adarsh (Tarun Singh) that his true character will be evident before the world some day. He promises to unite his family one day. Adarsh says everything is over now, Parineeta gives him a nasty look.
Daadi brings the money and tells Ragini and Shekhar that she needs something in return. Ragini says Daadimaa. She tells Ragini that you people did not think of me when you left me four days back. I was hurt when my family walked away like this. She says the money matters now but they have to agree to her conditions. Desperately, Swara calls Sanskar and he says he will come home in a while. Daadi says here are my conditions. She says something that leave both Shekhar and Ragini shocked. She says if you do not agree your lives will be ruined. She tells them to decide fast.
Swara tells Sanskar that everything is against them now. They hold hands and go to Daadi's house. They see Shekhar and Ragini with money. Swara says Baba but he says he has to go now. They leave. Daadi tells Swara that she is successful in separating Swara and Ragini. She says you always thought you were clever but I am the Queen. Swara is stunned. Daadi closes the door.
Ragini runs to jail and frees Laksh (Namish Taneja). She says she has kept the promise. Inspector tells Laksh that money is more important than relations now. He further instigates him against Sanskar. The doctor tells Shumi that Ayush should get better now. She is happy and asks Shekhar about the money. He says maa gave it. Shumi praises Maa but then hears her condition and is stunned. Sanskar tells Swara that Sujata has done this. Laksh and Ragini walk inside. He is about to fall and they rush to him but Ragini tells them to stop. With great difficulty, Laksh stands at one place. Sanskar feels helpless thinking that he failed to prove his innocence. Laksh looks at him angrily. Ragini goes inside and Swara runs behind her. She says she wants to talk to her once. She tells Swara that Laksh and she are leaving Kolkata and won't keep any relations with them. (Also Read: Swaragini 21st September 2016 full episode written update: Sanskar beats up Adarsh as relationships go for a toss!)