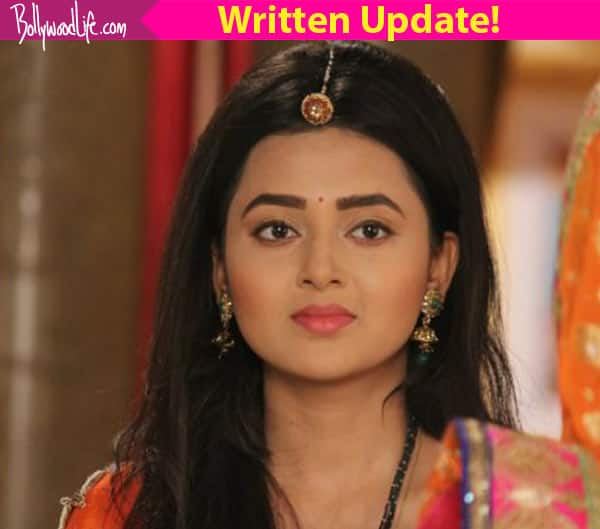 Swaragini begins with Ragini (Tejaswi Prakash) ending her relationship with Swara (Helly Shah). The latter tells her to give her a chance to prove their innocence. She says Laksh (Namish Taneja) is unwell. She says Swara is incomplete without Ragini. On hearing this, Ragini tells emotional. Then, she remembers the video and all that happened in the police station. She tells Swara that their relations have ended now. She says if I give you a chance, you'll break my trust once again. Ragini says it is good that we do not share the same mother or else it would be more painful. She says I have given up our relationship in my deal with Daadi. She tells Swara that their greed ruined Laksh's life but she saved it. She breaks all their snaps and says relations are like glass pieces that do not join back.
Ragini packs her bags and gets out of the room with her veena. Swara follows her. Daadi (Alka Kaushal) tells Ragini that is she ready Panditji has come. Swara asks her what are you doing? She says I am doing Shraddh of our relationship. She gets shocked.
Shekhar (Sachin Tyagi) tells Sumi that he is ending their relationship as his mother asked for it. Sumi says he cannot do so. He says this happened because you could not look after the baby. He says you are unfit to be woman and I cannot forgive you. Laksh asks Ragini what is the drama. She says it is the shraddh of Swara and my relationship. She says I am burning all our memories. Happy, Daadi says she will call neighbours to see this. Swara tells Ragini that she won't let her do so.
Laksh says Ragini I will also do shraddh of my relationship with Sanskar (Varun Kapoor). Swara and Sanskar are shocked. Daadi smiles and gives an evil look. Ragini takes out the snaps and puts them in the havan kund. Laksh is seated beside her. (Also Read: Swaragini 22nd September, 2016 full episode written update: Swara devastated as Daadi breaks the family!)
Shekhar takes Sumi (Parineeta Borthakur) to lawyer's office where he forces her to sign on the divorce papers. She begs Shekhar not to force her but he does not listen. The lawyer leaves the room. Shekhar asks Sumi to sign. In the Baadi, Laksh takes Sanskar's snap and burns it. He is shocked. (Also Read: Swaragini actor Varun Kapoor celebrates his birthday with Bollywood Life – watch video!)