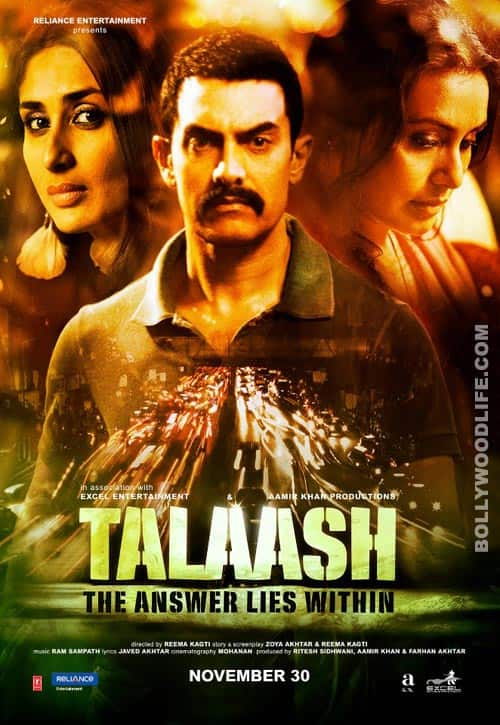 Aamir Khan, Kareena Kapoor and Rani Mukerji hold your attention till the very end in this gripping murder mystery
Actor-filmmaker Aamir Khan is being seen on the big screen in a commercial movie after a long time. But his much awaited Talaash, releasing today, is too intelligent to be called 'commercial' or 'massy' in the conventional sense. Directed by Reema Kagti and written by Zoya Akhtar and Kagti, with additional dialogues by Anurag Kashyap, the film aims to intrigue and surprise you. Does it succeed? To a great extent, yes.
The story begins with the wonderful song Muskaane jhoothi hai, visually complemented by beautiful shots by KU Mohanan depicting the city and its underbelly in ways that you may notice but often choose to ignore. The movie dives straight into an accident scene – filmstar Armaan Kapoor (Vivan Bhatena) is dead. Inspector Surjan Singh Shekhawat aka Suri (Aamir Khan) is assigned the case. As the investigation progresses, it soon becomes clear that there's more to the accident than is obvious.
The first half is a bit slow. It simply establishes the mystery and the characters in a straightforward, realistic way. The lead stars Aamir, Kareena Kapoor and Rani Mukerji have no dramatic entries or even scenes that showcase their acting prowess. So at interval time you really don't know what's coming next. The mystery begins to unfold…
Post interval, Talaash grabs all attention and does not let go till the mystery is solved. Suri chances upon the seductive Rosy (Kareena), who becomes his informer as well as his close confidante, helping him to solve the case. Truly gripping, although some portions might be unsatisfactory for some.
Aamir's honest cop roles in Baazi and Sarfarosh were more action-oriented, even though they had a backstory. In Talaash, he is subtle. There are no standout mannerisms or dialogues that the character indulges in – like Chulbul Pandey or Bajirao Singham did. Suri is an honest, boring police officer, high on integrity, low on emotional intelligence. He can't get over the death of his son Karan in an accident, and it makes him insomniac. But he thinks it's his wife Roshni (Rani) who needs psychiatric help and not himself. Both are trying to come to terms with the grim reality of loss in their own way, and this leads to a growing distance between them, as they are unable to express their deep feelings to each other.
Rani is sans makeup, but even with very little screen time she impresses with her acting. But it's Kareena that the film belongs to, even though sometimes she looks and acts overly sophisticated for the kind of life her character is leading. At the same time, she is a high-society sex-worker, but speaks like her Chameli avatar. As far as acting goes though, rather than Heroine, it's Talaash that will eventually earn Kareena greater respect – she delivers an ace. In this film, Aamir, Kareena and Rani act with their eyes.
Nawazuddin Siddiqui delivers an award-winning performance in this one. The actor has been appreciated in Kahaani and Gangs of Wasseypur and tops that with his act in Talaash. It's amazing how he plays the vulnerable lame man near the bottom of the filth heap that is Mumbai. Remember, it's the same actor whose characters oozed power in Sujoy Ghosh and Anurag Kashyap's films. All the other character actors are decent in Talaash as well.
Kagti definitely has done it with Talaash. Every frame has a meaning and no screen time is wasted in mindless comedy or item songs. It's the kind of flick to be enjoyed, just like slow-cooked food. Especially notable is the bedroom scene of Suri and Rosy – five stars to Reema and Zoya for that! And Aamir and Kareena, of course, who take us with them on a joyride into another world. After all, isn't cinema anything but virtual reality? Ram Sampath's score adds to this feeling in the film.
Talaash is less about the mystery and more about the not-so-obvious factors – like coming to terms with the loss of a loved one, overcoming greed and fantasy, and beating the mind at its games, for instance. The movie needs to be watched at least twice to understand the subtext. It will grow on you.
However, this one might not appeal to viewers addicted to reading crime and supernatural fiction, or watching international TV shows and films of the same genre. But as a first for Indian cinema, Talaash must be watched. It might not be a mass entertainer, but it's on the road to becoming a cult film in the genre.
Rating:  3.5/5
Rating:
out of 5
Reviewed by Shweta Parande
* Poor
** Average
*** Good
**** Very good
***** Excellent