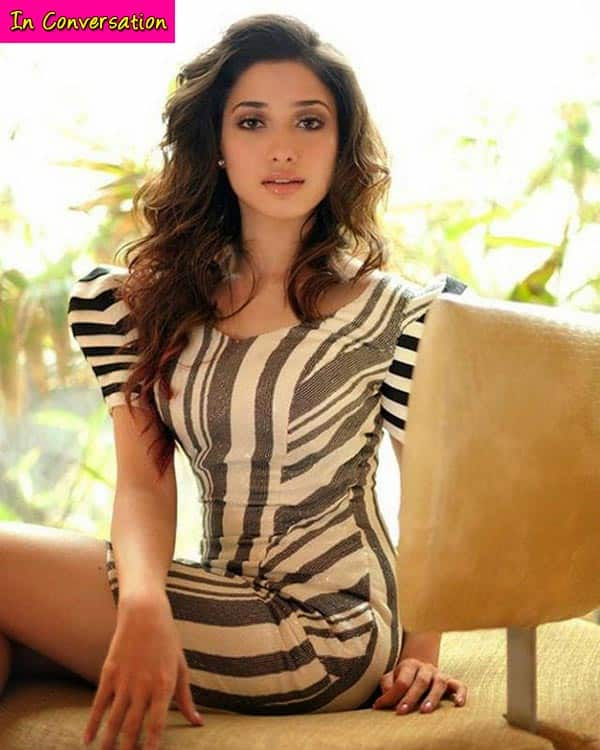 This Southern beauty failed to make her mark in Bollywood with her debut film but Tamannaah isn't worried and is all set to woo the audience once again with her upcoming comic caper
Tamannaah Bhatia made her Bollywood debut with Sajid Khan's Himmatwala which turned out to be a dud at the box office. However, that hasn't stopped the leggy lass from working with Khan. She has teamed up with the Housefull director yet again but this time for a multi-starrer comedy Humshakals which stars Saif Ali, Riteish Deshmukh, Ram Kapoor, Bipasha Basu and Esha Gupta. BollywoodLife recently caught up with the talented actor to talk about her new film, equation with co-star Bipasha and much more. Read on to know what she had to say
In your last film Himmatwala you were compared with Sridevi but with Humshakals there is no such baggage. However, comparisons will be made between you and your other two female co-stars – Esha Gupta and Bipasha Basu…
The best part is that all three of us have different USPs. Me, Esha and Bipasha – we three are completely different from each other and we all are playing different roles as well.
But reports are doing the rounds that Bipasha is upset coz you have been given more prominence
I think Sajid Khan is a very straight forward person. When he signs you, he directly tell us about your role – what it is and how long it is. After working with Sajid in Himmatwala, I know for sure that he is not the kind of person who will say something and then do something else. So whatever he promised me, he gave me that and I think he has done the same with every other actor. Though negative reports have been floating but then some things sound nice when you print them. But the truth is Sajid is a straight forward person who keeps his word.
So how was your rapport with all your Humshakals co-stars?
Bipasha, Esha and me – all of us got along very well on the sets. Normally you expect that when there are three female leads somebody shouldn't get along with someone. But fortunately that didn't happen with us. And I got along very well with Esha particularly. I remember my mood wasn't all that good on one particular day and Esha came to talk with me. She actually came to cheer me up which is very rare. I found her gesture very sweet and from that day onwards we have been in touch.
You play a video jockey in Humshakals, have done something similar down South?
I feel this film is completely new for me coz Sajid's comic sense is very unique. The comedy you get to see in a Sajid Khan film, you don't to see in other films. It's very clean and not vulgar in any way. And in Humshakals he has tried to stay very original. Though the film's look is quite similar to Housefull and Housefull 2, conceptually is very different.
There were reports that Kareena Kapoor Khan said you looked similar to her sister Karisma Kapoor and you two even bonded on the sets…
It was very sweet of her to say that. When Kareena first met me, she said, "Oh, you remind me of Lolo." In fact, a lot of people had told me the same earlier but when Karisma's own sister said it so I felt it like it's probably true.
In Humshakals all the three male stars are dressed as women. Who do you think looked the hottest on the sets?
I think Ram Kapoor was the hottest coz he was curvy, very Indian looking and full (smiles). So, yeah Ram was the best looking one. Also, I think he is very very sexy. He has a major female fan following. People watch him on television and love him for what he does.
Talking about comedy, Are you open to working in a sex comedy?
No t really… I don't think will ever be able to do something like that. Coz whatever films I do, I want to watch it with my parents. So I will never do something I am not comfortable watching myself on the screen.
Any role model when it comes to comedy…
I have grown up watching Govinda. I think as an actor he was really funny. I loved his films. They were massy and I am totally filmy so I liked that space of cinema anyways.
What after Humshakals?
My film It's Entertainment with Akshay Kumar will release in August and after that I haven't signed anything as of yet.