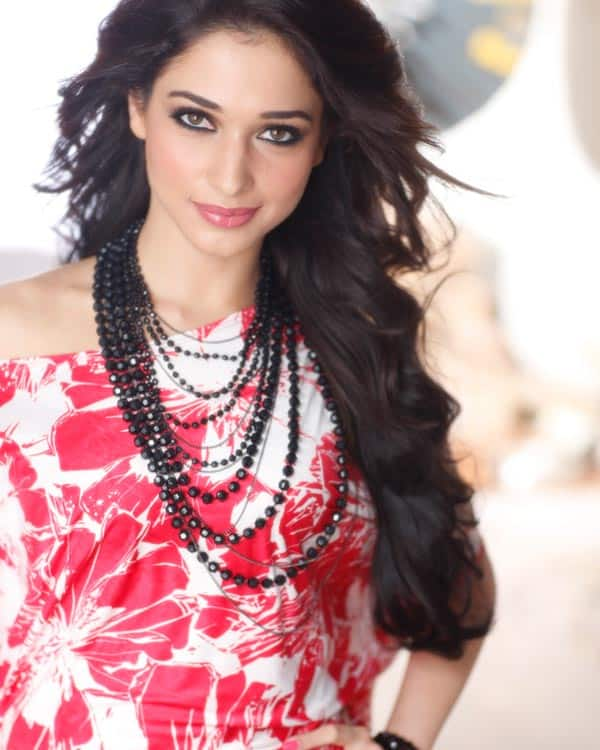 Director Sajid Khan discovered this South star and gave her Sridevi's role in his remake of Himmatwala. And now Tamannaah Bhatia is anxiously looking forward to her big Bollywood release. She talks about her journey and the struggle to get her big ticket to B-town, stepping into Sridevi's shoes, her co-star Ajay Devgn, competition, item songs, a film with Akshay Kumar and more…
Tamannaah Bhatia is living every bit of her himmatwali image. Managing to stay away from controversies, working with the best in the business and not hurrying her way to signing up for stories that demand extraordinary histrionics from her, Tamannaah is meticulously building a concrete platform from which to be first accepted as a commercial heroine and then as an actor of calibre. One hot afternoon we meet with the gorgeous Ms Bhatia, just waiting to exhale….
Journey to Himmatwala
I started with a small budget Hindi film called Chand Sa Roshan Chehra in 2005. Every step I took after that was crucial, because I didn't want to make any mistakes. At that point I was offered South films, so I tried my hand at that. Fortunately, the work I did in the South got me box office success and critical acclaim. All this while I got Hindi film offers – but I felt those weren't alluring enough for me to consider them. I wanted the audience to see the right side and the right image of me as an actor. I was waiting for a film that I would love to watch as a member of the audience. When Himmatwala came my way, I thought it would be a fruitful proposition, as it has Sajid Khan and Ajay Devgn. Both of them have been super consistent and successful in the work they have done.
No comparisons with Sridevi?
I don't think there should be any comparison whatsoever, because there is only one Sridevi in Bollywood. She's a living legend and I have just started off. I've only followed Sajid's orders, because the film is a rewrite of the original Himmatwala. It was completely his vision and perception of the character I played. He didn't mention Srideviji's name on the sets.
South films are a stepping stone to Bollywood…
There's a spate of female actors coming from the South to Bollywood. Hence people are generalising this, saying that South films are a stepping stone to Bollywood. Today, the regional market has become very strong. So ideally that's the place Hindi filmmakers look for fresh faces. An actor has to choose from the best she's offered. I didn't imagine that I would work with Ajay Devgn and the film would happen. Himmatwala was the best of the offers I got.
Working with a superstar makes your position strong at the box office…
I don't really think that way but, yes, the fact remains that there's a possibility of a good film being made, considering that the people working on the film have already established themselves. I would be stupid not to do films with Ajay Devgn or Akshay Kumar. Ajay is a very honest human being. Besides his stardom and fan following, his honesty and ambition can be seen in his films. When he says a dialogue, you can feel that honesty in his voice. That's what the audience like him for.
Why is Bollywood so fascinated with South remakes?
We all love heroes in films and we all want the glorification to happen in every film. South films still continue to do that. They still make films depicting only heroism, but it's not their fault… the audience likes to see such cinema. And I guess in Hindi films that trend has come back, where heroes are portrayed larger than life – and Hindi cinema lovers are also enjoying it.
In male-dominated films a heroine doesn't really have much to do…
For a female actor, doing a commercial, male-oriented film is a bigger challenge than doing the title role in a female-oriented film, because you have a limited amount of screen space and you have to captivate the audience and be able to make them fall in love with you in that limited space. If I do a film just for the heck of my role and people do not enjoy it, then the purpose of entertainment is defeated. As an actor, I take all these things into consideration.
On her superstar status in South cinema…
When people tell me that I'm a South superstar, I don't take it seriously. I never look so much into the past and not too much into the future. I just enjoy doing my job; I consider every film as big as Himmatwala and then leave it to the audience.
Competition ka zamana hai…
Not just Bollywood – there's an equal amount of competition in the South as well. You just can't run away from it. With such a huge population, there's no dearth of talent in our country, so obviously there's going to be competition. You have to be the best at what you do so that you survive and grow.
On item songs…
I don't know how and when it will happen, but I guess it should happen at the right time. I personally don't like the tag 'item song'. I feel it misleads the audience.
On her film with Akshay Kumar…
We will start the film soon. I'm really excited to start shooting the film with Akshay Kumar. But it's too early to comment on it. I am getting a lot of Hindi film offers. But I am taking my time to read scripts.