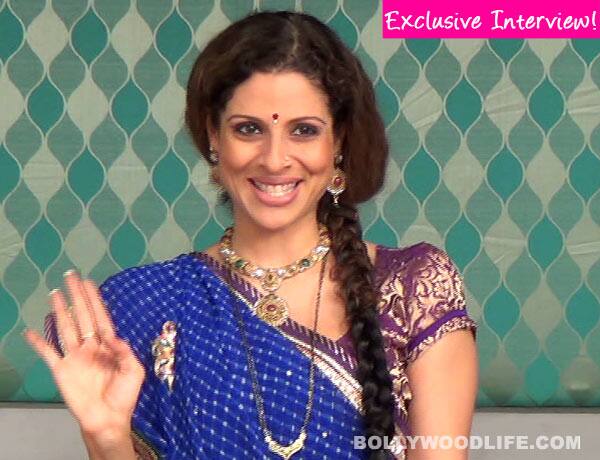 skip advertisement
The curly-haired actor makes her appearance in the Bh Se Bhade household on February 1 and here's what she has to say about that and much more…
Tanaaz Irani, known for her amazing comic timing has been entertaining audiences for years now on TV as well as on the big screen. She generally plays quirky characters with a comic side and she's all set to be part of yet another comedy show. Tanaaz will be joining the Bh Se Bhade household from February 1 as Mridula Bhade, Bhailal Bhade's (Bhadrakant Bhade's twin brother) wife. Both Bhailal and Bhadrakant have been played by Deven Bhojani. Tanaz's character is a kleptomaniac
and has another quirk – she makes things! For example, she makes a keychain out of Sushma's (Bhadrakant's wife) mangalsutra and a tablecloth from an expensive Kanjeevaram saree! While Tanaz's onscreen character sounds fun, she is equally fun to talk to….
You will be seen in Bh Se Bhade – how was it shooting for the show?
It was a lot of fun. It was like a reunion, as I have worked with these actors before.
You are playing a kleptomaniac, something that is very different from the roles that you have played so far…
Yes, I am playing a kleptomaniac in Bh Se Bhade and it was very different from the roles that I have done before. This character has a totally crazy side to her and that's the fun part. She likes to steal for fun. And my character likes stealing big things which aren't of any use to her.
Any fun incidents that happened while shooting for Bh Se Bhade?
Oh, there are so many incidents that happened on the sets. But yes, if I was to recall one, there was this one incident when I had to ride an autorickshaw. Of course I didn't know how to and I wanted to do it. So I told Deven about it and he said, 'No, Tanaz, don't do it.' But I was quite excited about it. When the autorickshaw arrived on the sets, I asked the driver how to ride it and everything. Then I got into it and started off. When I started off, I realised that I had forgotten to ask where the brakes were! I yelled out to the driver to ask him that. Deven said that I should have asked that question first.
Following that, when I started the rickshaw again, this time it was in reverse gear and it went backwards at full speed! It was so funny…. you should watch it.
Has that scene been retained?
No, it hasn't. But I have it on my phone. If the show-makers release it, you should watch that shoot.
Compared to all your other roles, how difficult was this one?
It wasn't difficult. I love to make people laugh and that's not an easy job.
You are known for your comic timing. But if you were to choose your favourite comedian, who would that be?
There are so many that I have loved to work with from TV and the film industry. I like Ali Asgar. I like Kapil (Sharma). But Ali is really good; I have worked with him.
Who do you like from the film industry (for comedy)?
I love Paresh Rawal. He really gets into the character. In Bollywood people are scared of doing roles where they can't look good. I don't care about looking good, 'coz I enjoy making people laugh. Making people laugh is what I love to do.
Do you have any films lined up?
Not yet. But I may sign some.
If you were to go back to a TV reality show, which one would you choose?
Maybe I would like to go back to Nach Baliye with Bakhtiyaar Irani.
What about Bigg Boss?
No, certainly not Bigg Boss. No one would like to re-enter that house…