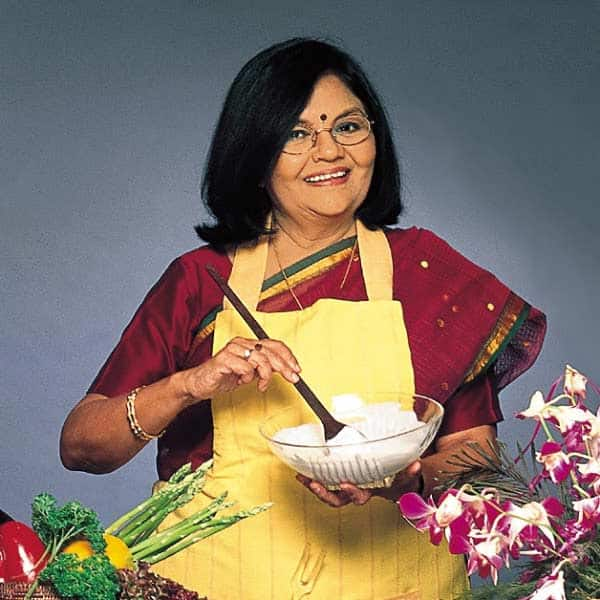 Noted vegetarian cook and TV chef Tarla Dalal died this morning in Mumbai aged 77
It is a story of speculation, stories and retractions. Early this morning a tweet announced that noted TV chef and vegetarian cookbook author Tarla Dalal has passed away. This story soon picked up momentum and spread through social networking, with no confirmation from family members coming in. Wikipedia did an update and then a retraction. A short while ago it was confirmed by a Mumbai tabloid that 'Dalal, in her late 70s, died of heart attack at 7 am today morning, November 6, 2013, at her residence in South Mumbai. She has three children; her husband passed away in 2005.
Tarla Dalal (1936-2013) began as a home cook, who taught new brides how to make vegetarian Gujarati cuisine. Her first book, The Pleasures of Vegetarian Cooking, was published in 1974 and became an instant success, spawning an entire industry in her name.
Over 100 books in many languages, cookery magazines, ready-to-cook-mixes and much more were dished up by the fertile mind, ladle and business acumen of a lady who looked like everybody's favourite Gujarati aunty. And her fame spread wider and further with her television shows – Tarla Dalal Show and Cook It Up With Tarla Dalal on Sony TV, broadcast through South East Asia, India, the Middle East, the United Kingdom and the United States of America.
Sanjeev Kapoor tweets: "It's a sad day for indian culinary world today. We've lost the "First" MasterChef – Tarla Dalal. RIP"
BollywoodLife sends condolences to Tarla Dalal's family