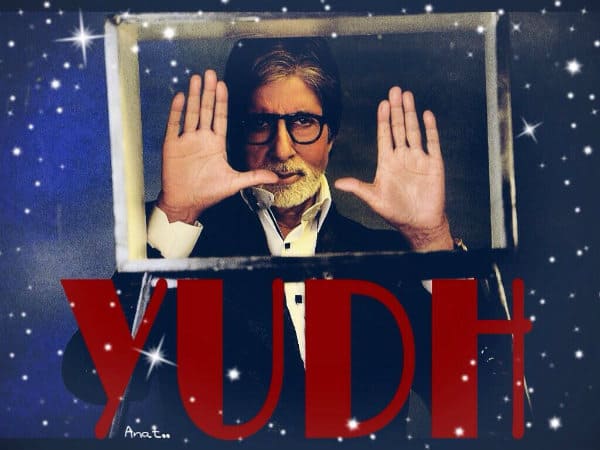 Sony TV's new fiction show created a lot of buzz before and after it's launch, but somehow the TRPs of the Anurag Kashyap show are not that commendable
We gave you five reasons why we think Amitabh Bachchan's Yudh did not work. Somehow, we thought the real reason would be best understood by experts, who've already done market research on what works and what doesn't. We got in touch with some of the top telly producers to find out why they think Yudh has been garnering such low TRPs and here's what they have to say…
Madhubala Ek Ishq Ek Junoon producer Abhinav Shukla: Honestly speaking I have only seen glimpses of the second episode. I don't know the real reason as why the show is not garnering enough  TRPs. It would be wrong to say this 'coz i don't know the story or the peg of the show. I am sure Sony and the production house has done enough research for the show. Maybe people are not prepared to see such shows. Indian audiences are very different today from the developed countries like UK and US. Indian television is about women. The central character of any Indian soap is a woman. The story has to be has to be of a woman that's how we as a production house feel. In films, you create a Hero but in telly soaps it's the female character that becomes larger than life. From Kyunki Saas Bhi Kabhi Bahu Thi to Kumkum it's the story is of a woman that people want to hear. I wish it it works and I hope the Indian audiences open up to it.
Laut Aao Trisha producer Bhairavi Raichuria: I am too new a producer to actually comment on this.
Badi Dooooor Se Aaye Hai Producer Aatish Kapadia: I haven't seen it, so it would be unfair for me to comment on it.
Baawre producer Sudhir Sharma: I would like to avoid this question, as the people involved are close professional friends.
Ekk Nayi Pehchaan producer Kinnari Mehta: No comments.
Uttaran producer Rupali Guha: I haven't had the opportunity watch all the episodes, so I don't think I am the right person to answer this. I had caught initial episode and I thought it was quite nice and mesmerising. I think, it didn't reach out to a lot of people or the timing was not right – I can't really say. However, content wise Amitabh's show is amazing.