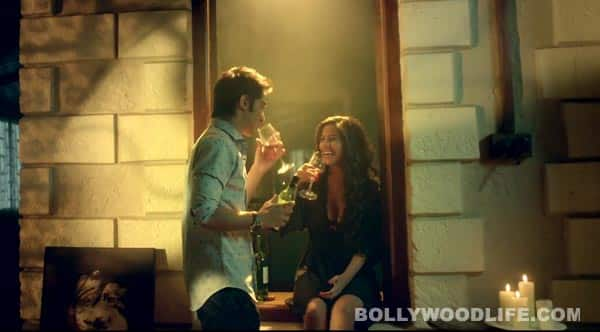 Unbelievable as it may sound, but the desperate-for-attention Poonam Pandey looks classy in this melodious number. Take a look!
Poonam Pandey has done everything imaginable and even beyond to stay in the news. So you don't need to be a genius to figure what one can expect from her (in terms of 'performance' that is) in her debut Bollywood movie Nasha. Surprisingly, in the promotional song of the movie Tera nasha the babe looks charming (in parts) without indulging in her regular revealing business.
Nasha director Amit Saxena (Jism-fame filmmaker) shows some restrain in portraying the protagonist of his movie. So instead of the steamy and raunchy Poonam that we have known so far, has suddenly turned classy for this number. This melodious song is written by Radhika Anand and it has been composed by Sangeet-Siddharth and sung by Anirudh beautifully.
Visually too this song is quite slick. The cinematography is excellent. In terms of storyline all we can gather is that a teenage fellow falls in love with a seductress (Pandey). The gal is not willing to take their friendship to the next level. Clearly, story revolves around teenage infatuation, love, sex, heartbreak and reconciliation. But those lusting for Poonam's skin show will be a little disappointed as there isn't much in this number!