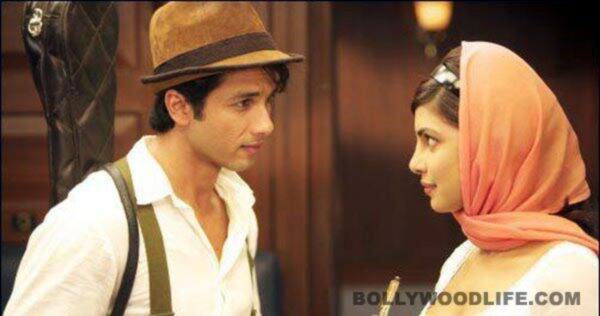 Click for pictures, news, gossip, interviews, videos, reviews, features and synopsis
Shahid Kapoor and Priyanka Chopra's film Teri Meri Kahaani, directed by Kunal Kohli, releases on Friday, June 22. Read on to know more about the film.
SYNOPSIS
Can we truly love one person throughout our life and hope that fate makes us meet with the same person in every life of ours? This story takes us through a journey of eternal love between a couple who have vowed to love each other not only in this life but in every life to follow. Their love is so strong that even destiny wants to bring them together. The story starts in 1960 Bombay with Govind and Ruksar, then moves ahead to present times, 2012 England with Radha and Krish and then goes back in time to Punjab, 1910 with Aradhana and Javed. Can Javed and Aradhana still be together? Will Ruksar realise that Govind's feelings for her were genuine? Will Krish be able to clear the misunderstandings? Will true love prevail, or will destiny take its course?
REVIEWS
TERI MERI KAHAANI Movie Review: Charming love story!
TERI MERI KAHAANI quick movie review: Interesting, but slow!
TERI MERI KAHAANI music review: Melodious!
PICTURES
What are Shahid Kapoor and Priyanka Chopra doing in Australia?
Shahid Kapoor and Kunal Kohli promote 92.7 Big FM's 'Safety Manao, Life Banao' campaign
VIDEOS
TERI MERI KAHAANI song: That's all I really wanna do!
NEWS, GOSSIP, INTERVIEWS & FEATURES
Teri Meri Kahaani: Shahid and Priyanka go through drastic style changes
Priyanka Chopra: SRK is as heart-warming as ever
Shahid Kapoor turns choreographer for Priyanka Chopra
Kunal Kohli: You will see a totally new Shahid Kapoor in 'Teri Meri Kahaani'
Is Kunal Kohli going overboard with 'Teri Meri Kahaani'?
Priyanka Chopra bonds with Bipasha Basu!
Has Priyanka Chopra patched up with star wives?
IIFA Awards 2012: What's in store at Singapore?
Priyanka Chopra, John Abraham, Abhay Deol, Rahul Bose, Milind Soman….who has the greenest heart?
Priyanka Chopra: I am a geek's fantasy
Who is Shahid Kapoor's favourite co-star?
Shahid Kapoor believes he's God's gift to Priyanka Chopra!
Vidya Balan, Priyanka Chopra, Shahid Kapoor to inaugurate Indian Film Festival of Melbourne
Is Kunal Kohli doubtful about Shahid Kapoor-Priyanka Chopra's 'Teri Meri Kahaani'?
Shahid Kapoor apes Shammi Kapoor
Shahid Kapoor to do a Bejoy Nambiar film