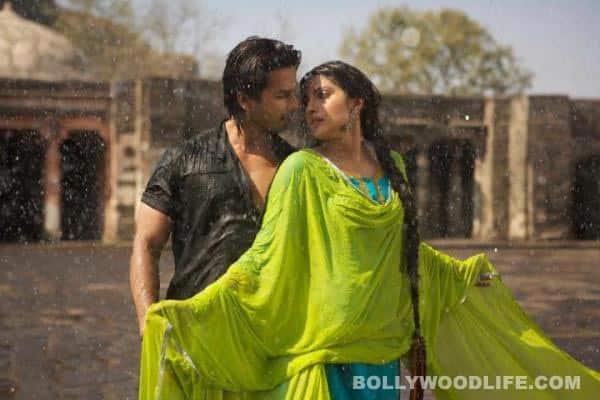 Shahid Kapoor and Priyanka Chopra sparkle as lovers in Kunal Kohli's old-fashioned film
Filmmaker Kunal Kohli's Teri Meri Kahaani (TMK) is said to be inspired from the much-loved Taiwanese film Three Times, directed by Hou Hsiao-Hsien, which showed a connection between three love stories in different eras. But if you watch TMK with a clear mind, it manages to pull at your heart strings. The only issue is that sometimes it pulls at it too slowly.
Story
The story begins in 1960 in Pune, with Ruksar (Priyanka Chopra) and Govind (Shahid Kapoor) meeting in the train. Just another train saga, you would think. But it doesn't turn out to be that. Ruksar is a freshly successful Hindi film heroine and Govind is a talented musician looking for work. Love happens but there are some obstacles – in the form of another lover for Govind. This era has been depicted with the help of some good (though not excellent) sets, but there was no need to show a tram in every scene. Kunal Kohli deals with the 1960 story in a Chaplinesque way – for example, comic moments without dialogues between the reporter (Vrajesh Hirjee) and Govind, and also the latter's Raj Kapoor-Chaplin-like look.
The story jumps to 2012 London where Krish (Shahid) is breaking up with his girlfriend Meera (Neha Sharma). It's also his birthday and the day he bumps into Radha (Priyanka). Their meeting is followed by fight, friendship, Facebook statuses, phone chatting, Ipad sharing, love, hanging out – and trouble when Meera posts censored pictures of her ex-lover online. All this seems normal. It's 2012, right? But do Krish and Radha get back together?
Just when we're figuring that one out, the film moves to 1910 in Sargoda, near Lahore. This is the best track of Teri Meri Kahaani and we guess that's why it was given so much screen time. It's the really old-fashioned era, and yet, Javed (Shahid) who is a hard-core flirt doesn't take much time in impressing a girl and getting in between the sheets with her. Be it the village belle or the English memsaab's daughter. But he truly falls for Aradhana, a freedom-fighter's daughter. It's pre-Independence and yet, marriage between a Muslim lad and a Sikh lass is not common. What happens in the end? Watch the film to know it.
Our take
Teri Meri Kahaani takes its time to unfold, often using nuances and subtleties to bring home the point. Although the film spans stories in 1910, 1960 and 2012, there is no masala here, no melodrama. It is simple storytelling at its best, in an old-fashioned way. And no, it is NOT like Dangerous Ishhq! The connection between the three love stories has not been established too well in the film – or maybe because the lovers do not have any past life flashes. It takes some time for the viewer to understand it. But once you know it, it seems like it's the sweetest romance. But Teri Meri Kahaani is not a mind-boggling film, and some of you might not like it. Also, people did not always laugh at the right moments in the theatre, but the romance seemed to be liked by all.
Performances
If Shahid Kapoor and Priyanka Chopra were ever lovers in real life and broke up, they have managed to hide it well. They excel as actors and show great chemistry. Shahid steals the show with his portrayal – coolly essaying three characters that are absolutely different from each other. His role as Javed in Lahore is what gets the whistles, as he is aided by dialogues laced with some colourful shayari every now and then. Shahid is good in the London story, too, and Piggy Chops complements him. She plays the pretty damsel with ease in all three roles, but strangely changes her accent only in the Lahore story. Cameos by Prachi Desai, Neha Sharma and Vrajesh Hirjee work.
Verdict: Teri Meri Kahaani is a light film and is to be enjoyed like that – without any stress. But it might not work at the box office.
Rating: ***
* Poor – Avoid!
** Average – Give it a shot if you are desperate!
*** Good – One time watch!
**** Very good – Must watch!
***** Excellent – Don't miss!