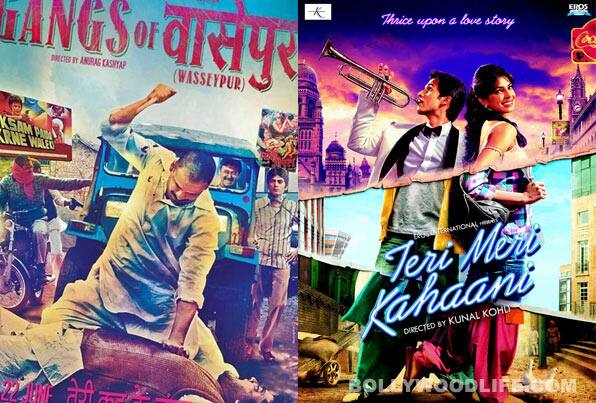 Buzz has it that these two films are likely to eat into each other's profits, but we think that TMK and GOW cater to completely different audiences
There's a clear choice for cinema lovers this weekend. Young college-goers will definitely queue up outside the ticket windows to watch Shahid Kapoor and Priyanka Chopra setting the screen on fire with their undeniable chemistry in Teri Meri Kahaani. And then you have Anurag Kashyap's much talked about and critically acclaimed Gangs of Wasseypur, which will entertain its audiences thoroughly.
The two films are of completely different genres. While Kunal Kohli's production is a mushy love story (in fact, there are three love stories in the movie), Anurag's film has a grey tone and is strictly adult. Trade pundits opine that the two films should not have been released on the same date, as there is a possibility of a clash between them, each potentially eating into each other's profits.
But we think the argument is baseless. While Teri Meri Kahaani is a family film, Gangs of Wasseypur with its violent content and cusswords is strictly for adults. But considering the taste of India's intelligent filmgoers and the ever flourishing multiplex culture, we think GOW can pose a threat to TMK, not the other way around.
Now you tell us, which film will you watch this weekend?
ALSO READ: