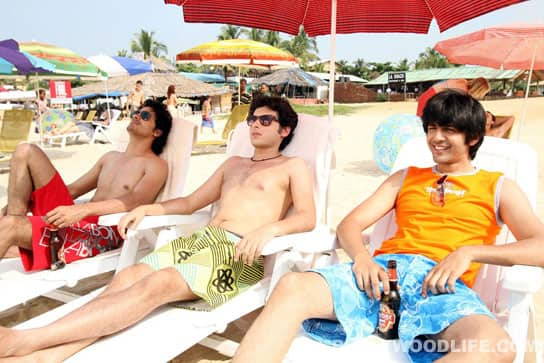 As major films don't release during the season, we get to watch some good indie films in the summer
It is indeed the Indian Premier League that I am referring to. And no, you haven't clicked through to a sports site, you're still on India's hottest and not to mention best Bollywood site. Now that the shameless plug is out of the way, it's time to return to twin partners in shame, namely the IPL and Bollywood. I returned from Cannes last week and flew in directly to Chennai to catch the IPL finals. All hype, all hoopla, the best team won and so on. What the IPL has inadvertently created is a release window for independent Hindi films that otherwise wouldn't see the light of day or worse, go straight to DVD and eventually make it to one of the glut of movie channels that you end up watching in the wee hours of the morning when ideally you should be getting your beauty's worth. But that's you. And this is the IPL. What the tournament has done is scared away the big bad Bollywood producer. The kind who will splurge crores of rupees on making bloated, unwatchable product starring bloated, unwatchable Bollywood stars (insert your own pet hate here) and then, at the last minute hesitate to release it during the IPL. And why? Because he correctly believes that his film is a steaming pile of ordure and, when audiences can watch a good game of cricket in three hours, which also features appearances by Bollywood stars and some item numbers by firangs in the name of cheerleading for absolutely free, why would they cough up their cash for said dung?
Hence, shazaam, a two-month window has opened up in summer and we get to watch independent films that tell different stories. Now, all indies are not good, indeed, some are downright embarrassing. But for every Teen They Bhai, Kucch Luv Jaisaa and Love U… Mr. Kalakaar! we have the equal and opposite reaction of Pyaar Ka Punchnama, 404 and Shagird, to name a few. And thanks to this new window, films like Haunted 3D and Ragini MMS, whatever their relative merits or lack thereof, have had the space to breathe in the cinemas and have revived the hitherto mordant Hindi horror genre. But, before you get carried away and begin dancing hysterically in the streets, beware. The big bad producer, who was lurking, has returned. This is because exactly like its big budget film sibling, the IPL has alas become a bloated, unwatchable product filled with stars. Thus the unpardonable Akshay Kumar vehicle Thank You was released during the IPL, as was the vastly superior Dum Maaro Dum and they both didn't fare too badly at the turnstiles either. Mr Producer man has smelled blood. So, unless the IPL returns to being a lean, mean, 'cricketainment' machine instead of the distended cash cow that greedy administrators have turned it into, then summer will return to big Bollywood releases and the indie release window will be slammed shut. Now, where's that Lalit Modi when we need him? Come back! All is forgiven! No need to share cell space with Raja and Kanimozhi. "Moo" (that's your cash cow calling).