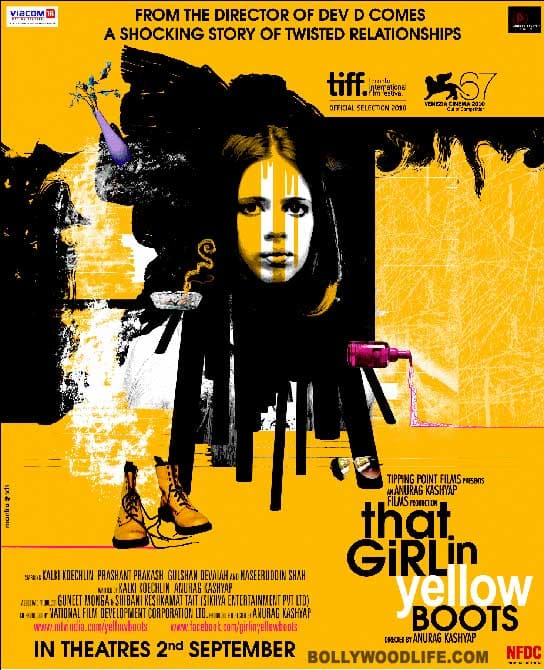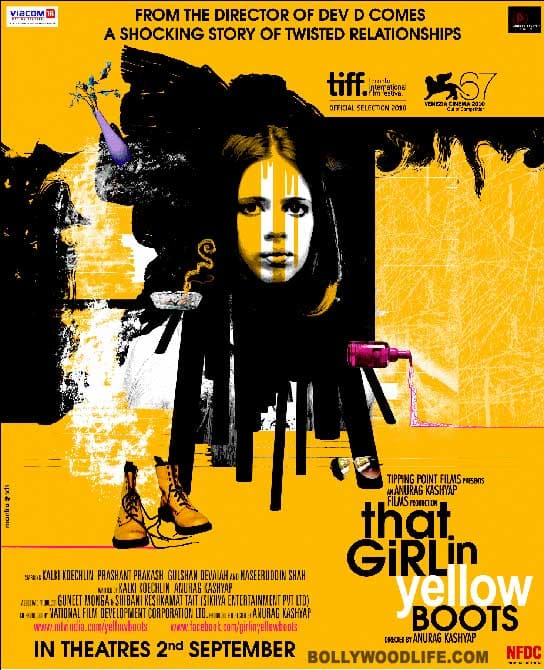 It is the director's most challenging film yet. Eat your heart out, Ram Gopal Varma
It is a well-established fact that writer/director Anurag Kashyap is the poster-boy of Indian independent cinema and with That Girl In Yellow Boots, he proves exactly why. Kashyap has grown film by film. Whether it's the raw and edgy Paanch or the sprawling docu-drama Black Friday, the flawed but interesting No Smoking, the taut Gulal or his box-office breakthrough film Dev.D, Kashyap has only expanded his oeuvre as a director, refusing to be bogged down by convention or formula.
That Girl In Yellow Boots is his most challenging film yet. The film follows Ruth (Kalki Koechlin), a British woman of mixed UK-Indian parentage who comes to Mumbai in search of her missing father. She funds her quest by offering happy endings at a massage parlour that is the seediest this side of Bangkok. Her journey takes her through the city's underbelly, bringing her into contact and conflict with a drug addict boyfriend, a Dr Rajkumar-loving gangster, petty bureaucrats and much of Mumbai's flotsam and jetsam. The revelation in the end is at once startling and repulsive.
Kashyap does not take the easy way out. This is not your popcorn and cola film. Instead, this is pure, uncompromising cinema that makes you flinch and gasp, but you can't tear your eyes away from the screen. At the same time, the director leavens the film with playful humour that provides a much-required contrapuntal effect to Ruth's quest.
Pooja Swaroop as the parlour receptionist Maya who's constantly mouthing inanities into the phone is a hoot. And it must take a special performance to overshadow the peerless Naseeruddin Shah, who puts in a cameo as a well wishing customer of Ruth's. That honour goes to the debuting (the film was made before Shaitan) Gulshan Deviah, whose Kannada gangster Chittiappa steals every scene he's in. And Prashant Prakash does a convincing job as a drug addict who is in self-rehab at home in some of the most harrowing scenes in the film.
Kalki Koechlin has made a career out of playing damaged characters in Kashyap productions (Dev.D, Shaitan), but her central performance as Ruth is her best yet. She exudes the perfect mix of external vulnerability and inner steel. As seen through her eyes, Mumbai is a strange and scary place to be in. The fluorescent nature of the city itself has been captured like never before by Kashyap and cinematographer Rajeev Ravi's roving, probing camera, something only Slumdog Millionaire has achieved before this. Kashyap can now lay claim to being the true chronicler of Mumbai, warts and all. Eat your heart out, Ram Gopal Varma.
Kashyap has tweeted that it requires only 6.5 lakh people to buy tickets and watch it in the cinema for the film to break even. Go for it. It's money well spent and will provide the impetus for more such films to be produced in India that can stand proudly alongside the best of world cinema.
THAT GIRL IN YELLOW BOOTS: trailer | THAT GIRL IN YELLOW BOOTS song: Karmari