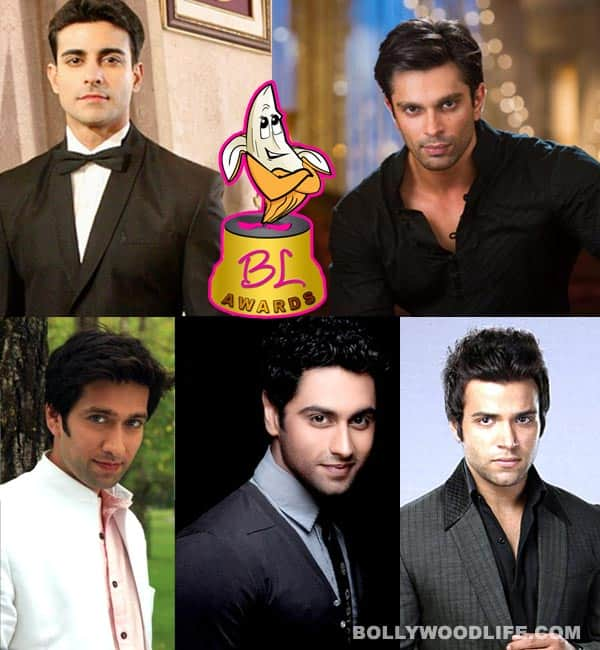 They have it all – chiseled bodies, killer attitude, cute smile, heart of gold, empathy and the prettiest girl in the show, but they turn on the tears at the slightest provocation…
We all know that women are sensitive and have hyperactive tear ducts that overflow at the word 'go'. But what to do when men expose their sensitive sides, to the extent that it gives the ladies an inferiority complex? You guessed it – we nominate them for Television's Cry Baby of the Year Award! Meet Asad, Saraswatichandra, Aditya, Arjun and Mayank – the cry babies of Tellyland and vote for your pick!
Asad Ahmed Khan (Karan Singh Grover): His character in Qubool Hai is that of a strict and disciplined businessman, one who thinks love is a waste of time. So what happens when such a person falls in love? He cries – not shedding silent tears, but bawling like a baby. That makes us go weak at the knees and we feel like cradling the weeping hero in our arms… or whopping him one to make him shut up. But when the storm is over, we have to wonder who is the biggest drama queen… err… king.
Saraswatichandra (Gautam Rode): Saras definitely qualifies to be a woman's dream man – they don't exist in reality. A person of love, compassion and integrity, Saras is a Harvard graduate with a keen business sense, someone who has an acute sense of responsibility towards his family, his beloved and his dead mother. There's just a small hitch that disqualifies him as the one we would take home with us – he cries… when he misses his dead mother, when he is away from his love Kumud, when Kumud's husband beats her, whenever he can!
Aditya (Nakuul Mehta): This brash young man from Pyar Ka Dard Hai… Meetha Meetha Pyaara Pyaara is in his early 20s, but carries the burden of his parents' divorce on his nazuk shoulders. He never believed in long term relationships, until he fell in love with Pankhuri (Disha Parmar). But theirs is a volatile relationship because of difference of opinions, ego clashes and diametrically opposite values, never mind the great love between them. Result: pyaar ka dard – not meetha, not pyaara, but which makes Aditya cry…
Arjun (Rithvik Dhanjani): This man is the epitome of sincerity. Arjun Kirloskar gives up his nicely comfortable job and becomes a mechanic in a garage to prove that he really loves Purvi (Asha Negi), Archana's (Ankita Lokhande) adopted daughter in Pavitra Rishta. And we can all guess what happens when he can't marry her – he cries. He also cries when he has to marry Ovi (Shruti Kanwar), who is Archana's twin daughter. He cries when Ovi leaves him because of a misunderstanding. And he cries when he is trying to convince Purvi of his love after a 20 year leap! Hankie, anyone?
Mayank (Ankit Gera): This sissy, who is trying to grow into a man thinks crying is the best way to get things done his way. When Mayank's ladylove, Gunjan (Roopal Tyagi) in Sapne Suhane Ladakpan Ke refuses to marry him because her cousin Rachna (Mahima Makwana) is in love with him too, he tries to commit suicide. And when he is unable to kill himself, he decides to beg on his knees before Gunjan, crying pathetically, saying he can't live with her. Now we don't know why Gunjan married him – out of love, or to stop him flooding her house!