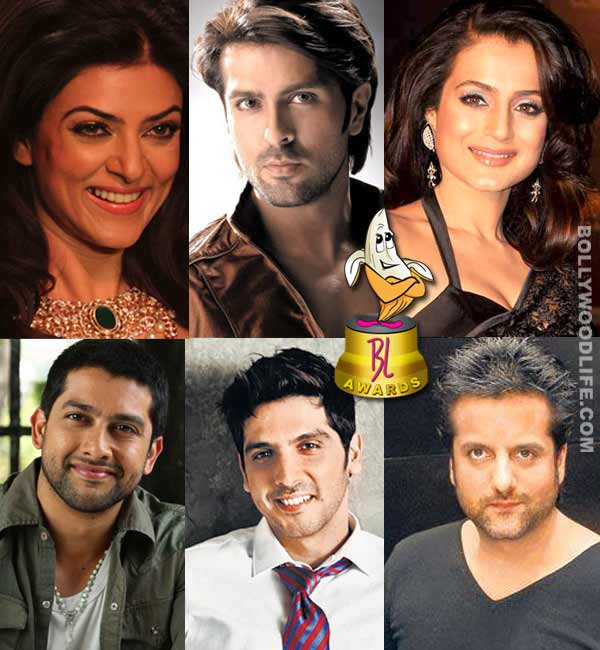 There were those who knocked on the doors of showbiz and were welcomed in with much fanfare…and then they vanished. Ameesha Patel, Sushmita Sen, Uday Chopra – who is the wannabe actor you remember best?
They came, they saw, but they couldn't conquer. We are talking about those dudes and babes who entered the entertainment industry with much fanfare, but – blame it on luck, personal woes or career failures – faded away after having ruled the filmi roost oh-so-briefly, forgotten by the same legion of fans that once worshipped them.
But such is showbiz, hai na? The world of stardom is that cocktail of fame, money and power. It is a realm that creates one a sensation overnight and only if you are smart enough to know how to retain what you get will you continue living the dream as long as is possible. Many knock on all the right doors, are welcomed in with pomp and splendour and then make a quick and quiet exit, almost fading out of the limelight and public memory. Who are these people? What are their stories? Where did they vanish to? Who remembers Sushmita Sen, Ameesha Patel, Fardeen Khan, Zayed Khan, Uday Chopra and others?
The forgotten also deserve some of award, wethinks. After all, it takes a great deal of hard work not to act. It takes special qualities to live without the lure of showbiz and the flash of paparazzi cameras after a taste of heady success. The 3rd annual Bollywoodlife Awards has a new category for these individuals, Bollywood's forgotten actors who created a sensation when they first arrived only to vanish from the scene soon after. And the nominees are:
Harman Baweja – Remember Love Story 2050's hero Harman Baweja, who was also seen in Victory and What's Your Rashee? We haven't seen the former flame of Priyanka Chopra for ages now, not since his last disastrous onscreen appearance. The actor was reportedly hit by an attack of low self esteem and gained weight. Now we hear that Harman is dating Bipasha Basu, which could get him back in shape, but back into films? Hmmm….
Aftab Shivdasani – At one time Aftab Shivdasani was the most promising hero in B-town. But when opportunities began drying up, he was forced to make career choices that were unfavourable, to say the least. Yes, he has over 40 films to his credit, but most of them failed to get the cash registers ringing. He still flashes his smile onscreen in occasional forgettable appearances.
Uday Chopra – It must be huge pressure to be Uday Chopra. As son of one of the most respected directors in the industry, younger son of a family that owns one of the largest production houses in showbiz, sibling to the reclusive but greatly lauded Aditya Chopra, director of one of the biggest hits in the history of Hindi cinema… it cannot be easy to be Uday. A decade ago, Uday Chopra stormed on to the big screen, super-successfully managed to get on our collective nerves, and faded away after one too many filmi flop. He now runs the US based division of Yash Raj Films. We hear that Dhoom:3 will be his last movie as a actor. Gosh, we owe him so much for that!
Fardeen Khan – The chocolate boy from the Khan family could not confirm his place in the Bollywood industry. He was launched by his father, the Late Feroz Khan, who was one of the most dashing stars in Bollywood in his time. However, the westernised Fardeen's first movie Prem Agan was a major flop and that set the tone for the career he tried to make in Bollywood. He has now almost disappeared from the industry and is said to be concentrating on reviving his father's production house and learning the ropes of fatherhood. We want to say a big thank you to him for swapping roles.
Zayed Khan – The brother-in-law of superstar Hrithik Roshan followed in the footsteps of his cousin Fardeen and joined the brigade of the worst actors in B-Town. Zayed Khan's first movie Chura Liya Hai Tumne bombed at the box office. Farah Khan's Main Hoon Na managed to revive his career briefly, but his lack of thespian talent showed in stark contrast to the appeal of the hugely popular Shahrukh Khan, who played his older half brother in the film. Zayed has worked in various projects after that, but with marginal success. Credit goes to his looks and persistence, not his acting skills.
Ameesha Patel – In her debut film Kaho Naa…Pyaar Hai, the petite Ameesha Patel played the girl next door. And the 'cute' tag stuck to her after that, even though stardom did not. All covered up in Gadar opposite Sunny Deol, AP managed to win over the audiences once again. But then it was her love life and a legal battle with her parents that kept her in the headlines, not her work. With only a handful of minor hits and a dropping career graph, Ameesha decided to go sexy with her special appearance in the flop Rani Mukerji–Saif Ali Khan starrer Thoda Pyaar Thoda Magic. While the song Lazy lamhe got her eyeballs, it didn't help her fading career. But she refuses to give up and will soon be seen in her home production Desi Magic, wearing even less, we presume. Kudos for that never-say-die attitude!
Sushmita Sen – It was very clear that Miss Universe Sushmita Sen was trying over-hard to fit into an industry she didn't quite belong to. Sush did the tried and tested roles and earned success only a couple of times in a decade long sojourn in filmdom. Which made us all wonder if she had indeed made the right career choice. Come one, the lady cant act, even if she desperately tries to. And she seems to have accepted that, since she now concentrates on her charity work, grooming beauty queens and bringing up her two adopted daughters. For that, we salute her!
There you are. Seven wannabe Bollywood stars who have not managed to make it big but still aspire to do so. Please do vote for one of them, since nobody else does!