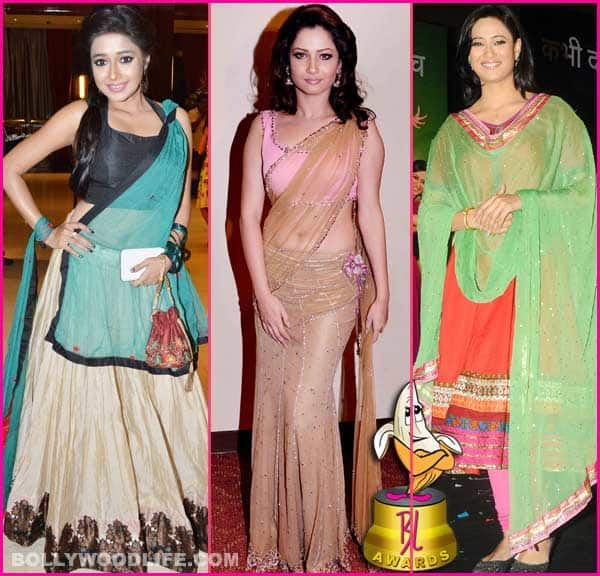 They came, conquered … and lived forever. What's more, they even looked the same all through their lives! Meet television's ageless beauties – Savita tai, Sulochana tai, Archana, Ichcha, Prerna and, of course, the immortal Baa…
Some things leave us amazed. One of them is how the ladies of Tellyland manage to look so young for so long. And while we were wondering what the secret to their success in the war against wrinkles is, an idea struck us like lightning- why not give these beauties an award for what they are: ageless! So here is a list of frontrunners competing for the award of Television's Ageless Beauty. Read, think and vote for your favourite…
Savita (Usha Nadkarani) – The eternal devil, she plays Archana's (Ankita Lokhande) mother-in-law in Pavitra Rishta and if you can guess her onscreen age by just looking at her, you have the eye of the tiger. She was loud and brash when she played a sadistic saas who tortured her bahu and she remained so even when she became a grandmother, never mellowing with age and time. And as she grew older, she looked the same in her crisp sarees, her prim and proper hair with shades of grey matching her character.
Sulochana (Savita Prabhune) – The eternal angel and in total contrast to Savita tai, Archana's mother Sulochana hasn't aged either. She is the eternal, ageless, soft spoken and loving parent whose clothes got trendier as her hair stayed dark without a speck of grey 20-plus years into show. She continued to be humble and unassuming even as her daughter was being tortured by her saas. We could almost imagine her playing a harp in a small corner of heaven!
Archana (Ankita Lokhande) – The woman incarnate, she came on Pavitra Rishta as a typical Maharashtrian mulgi who loved her husband, respected her elders and pampered the kids. Sacrifice is the order of the day and tolerating, the mantra for a happy life. Basically, all things nice, only sugar, no spice! And she remained unchanged 30 years on. What caught our attention was how, even as a granny, her skin still glows, her hair is still black and the figure, still mind blowing!
Baa (Sudha Shivpuri) – The immortal grandmother from the now defunct Kyunki Saas Bhi Kabhi Bahu Thi needs no introduction. But to refresh your memory, she was the only woman in the history of mankind who lived at least 200 years, by our calculations. With her sweet smile, humble presence and typical Gujarati seedha palla sarees, she spread a very happy vibe not only onscreen, but off it as well. She withstood the tides of time and lived hale and hearty till the viewers started wondering if Baa was truly immortal.
Ichcha (Tina Dutta) – The eternal tragedy queen, her life on Uttaran went through many highs and lows. She had the audience's sympathies with her at every point in time, but aged in a very unrealistic manner. As a young Ichcha, she was a bubbly, salwar-kameez clad girl with beautiful eyes, dark hair and an enviable figure. As an older Iccha, she became a tragedy queen with beautiful eyes, dark hair and an enviable figure. As mother of Mishti (she played the character of Mishti onscreen too) she remained a tragedy queen with beautiful eyes, partially grey hair and still, an enviable figure. Well, seems like no tragedy could affect this gorgeous girl's beauty!
Prerna (Shweta Tiwari) – The eternal serial marrier, she did it not once, not twice, but four times. She oscillated between Anurag (Cezanne Khan) and Rishabh Bajaj (Ronit Roy) like an ever-swinging pendulum. And she managed to look exactly the same through every marriage… err… years!
Go on, BollywoodLifers – vote for your favourite telly lady and tell us who the ultimate ageless beauty on the small screen is!