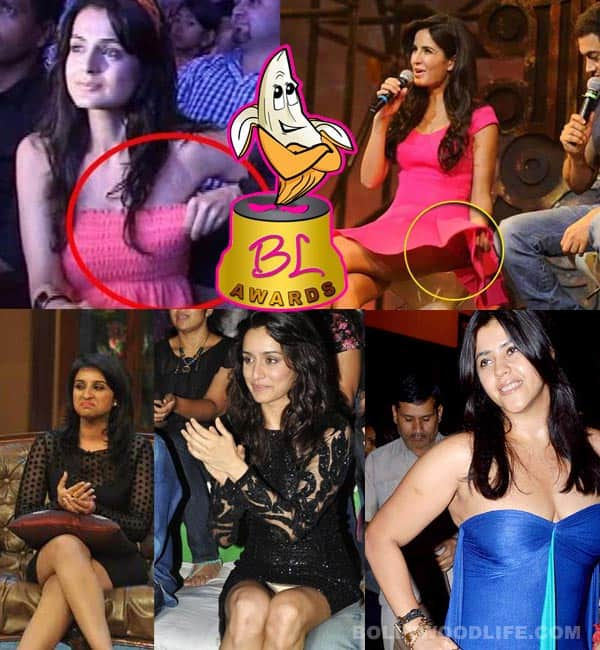 skip advertisement
Being a B-townie comes with a price. Whether the celeb is only one film old or has delivered only flops, the fashion police scrutinises them all and it's very difficult to get past their eagle's gaze…
Katrina Kaif is all over the news with her newly attained sexier than before figure in Dhoom:3. Shraddha Kapoor won hearts with her oh-so-perfect girlfriend avatar in Aashiqui 2. Pretty faced Anushka Sharma was accepted in B-town much faster than any other celeb. Yami Gautam was loved 'coz of her girl-next-door image in Vicky Donor. So, it's kinda surprising when celebs of such stature swoop down to peek-a-boo moments, hai na?
In the past, Yana Gupta had forgotten her essentials while attending an event, Celina Jaitley showed off her bosom more than one wanted to see and then we had Rakhi Sawant's unforgettable camel-toe. It's understandable when celebs do such things to grab headlines but when B-townies like former Miss World Aishwarya Rai Bachchan and former Miss Universe Sushmita Sen have suffer wardrobe malfunctions, we certainly get wide-eyed. This year, Katrina Kaif, Ekta Kapoor, Shraddha Kapoor, Anushka Sharma, Yami Gautam, Parineeti Chopra and Ameesha Patel have had their share of peek-a-boo moments. Was it a deliberate publicity stunt or just an accidental malfunction, it's up to you to decide. Read, look and then cast your vote to the contender whose peek-a-boo moment was the worst…
Katrina Kaif: The Dhoom:3 girl recently suffered a Marilyn Monroe moment in a pretty pink short dress at a recent event. She ended up showing her inners as she sat down while conversing with the media, and just like the cameras even Aamir Khan caught her 'oops' moment. Was it intentional or unintentional? Well, in the past, Kat had suffered wardrobe malfunctions just before the release of Jab Tak Hain Jaan and Ek Tha Tiger. Considering, she flashed more than intended with Shahrukh Khan and Salman Khan, wethinks that she didn't want Aamir Khan to feel left out. Wink, wink!
Shraddha Kapoor: She's only 21 and she needs to dress her age more often! On a rare occasion, when Shraddha Kapoor had dressed her age, she suffered a wardrobe malfunction. At the music concert of Aashiqui 2, Shraddha was seen in a short black sequined dress. Well, someone needs to teach the newbie how to sit when you wear a LBD! The young girl ended up flashing her inners at the cameras while flashing her pearlies. Well, well, more such fashion fumbles and daddy is sure to be more stern, Shraddha!
Anushka Sharma: She's young, she's beautiful and she's successful! She even has films in her kitty. Yet, Anushka Sharma made it to the headlines with a dangerously low-neck Nikhil Thampi gold dress. She not only looked uneasy in the strapless number but her dress didn't do justice to her body. What more, it was quite out of place making her cleavage look weird instead of hot. So, a peek-a-boo moment is sure not working in your favour, Anushka. You can do much better!
Ekta Kapoor: Born to actor Jeetendra, Ekta Kapoor smartly chose her career as a producer and director rather than blindly following her father's footsteps (for an obvious reason). So, why can't she choose her clothes with equal wisdom? On several events, she's spotted in clothes not meant for her body-type! Remember the blue strapless gown which went so low that we didn't know where to look. And the black dress, with a dangerously low rounded neck. Grrr… It sure didn't spell 'sexy'! Ekta has had her share of peek-a-boo moments way too many times this year and she needs to stop!
Parineeti Chopra: This chirpy babe is only two films old and one film as a supporting actor, but she has already made her mark in B-town. Well, she isn't quite a fashionista like her cousin Priyanka Chopra. Though Parineeti Chopra does feisty roles, she plays it safe with her style. So, we were more shocked than surprised when she chose a little black dress while promoting her last release Shudd Desi Romance. The young gal was obviously uncomfortable in the LBD and she kept pulling it down. What more, when she sat down, the actor showed more than she had intended to and more than what we wanted to see! With a Chopra connect, Pari sure doesn't need to use the 'oops moment' tactics to garner attention, does she?
Yami Gautam: At an award function, this Vicky Donor babe was seen in a shiny sequined dress but apparently, she was wearing a bigger size than her actual figure. Yami Gautam was caught adjusting her dress so that it didn't fall to bare her upper bod. Yami is usually dressed in boring outfits and the one time when she chose to differ, she just couldn't carry it off. It's not only the top of her dress that was bothering her, but also its long length. Well, we'd prefer her monotonous dressing than her discomfort while adjusting in sexy dresses, which could lead to miserable wardrobe malfunctions! We can't always pardon her for adjusting her dress on cameras, hai na?
Ameesha Patel: This actor is remembered only for her debut film Kaho Naa… Pyaar Hain. In her 13-year-long Bollywood career, the actor has failed to impress the audience with her acting or appearances. However, just before the release of Shortcut Romeo in June 2013, Ameesha Patel had an oops moment. The actor was spotted being very uncomfortable in a strapless pink dress, which she kept pulling upwards, so that it covered her modesty, but did it? Well, her dress was flying way too high barely covering her thighs. Ahem, ahem!
Well, we'd like to tell all these celebs to be a lil more careful the next time they step out in short lil dresses or low-necked ones, 'coz the roving eyes of the fashion police are really difficult to escape. So, BollywoodLifers, whose peek-a-boo moment was the worst this year and who deserves to be pardoned? Cast your vote, save your favourite star and pray that may the worst win…