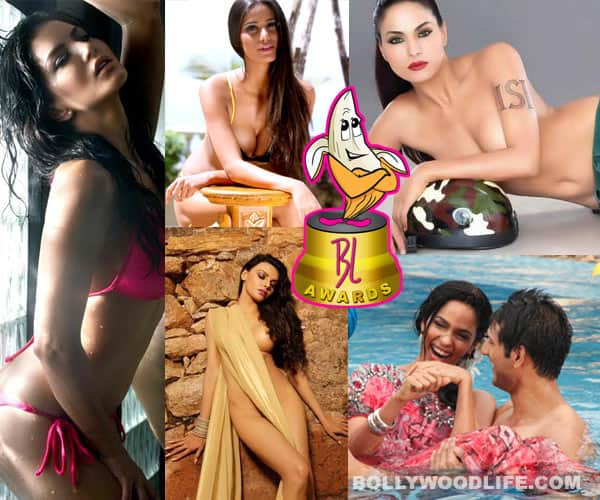 skip advertisement
Gone are the days when vamps were those who dared to bare far more than the good-girl heroine could or would. Today, B-town lead actors will shed notions of modesty for a role. But some lovely ladies bare skin beyond limits of 'daring'. Tell us for whom you cheer and who gets the boo…
Showing off a little cleavage has become an everyday fashion statement among heroines today. Who shows more skin directly translates to an increased number of fans and followers. Heroines don't try to cover up their bodies and this has usually worked to their advantage, being seen as a statement of modernity and liberated thinking. And outside films, Bollywood babes are comfortable in skinny clothes at private parties, public events and photo shoots. Obviously, flaunting skin attracts the camera flashes.
And what better way to hit the headlines than to indulge in a little skin show? Done well, it works and can be a thing of beauty. Done badly, it is a faux pas beyond tolerable limits. And so many do it so well – Sherlyn Chopra, Poonam Pandey, Veena Malik and others. Vote to tell us who should be booed for displaying their assets too openly. That lovely lady will win the 3rd BollywoodLife Dare to Bare award…
Sherlyn Chopra
Seen the promos of Kamasutra 3D? You definitely will have, again and again and again. And it's no secret why. Sherlyn Chopra did few unnoticeable films in B-town and somehow (read: God knows how) earned herself a cover shoot for Playboy magazine. Since then she has been going gaga touting her own boldness and displaying more photos of her wearing less than we could ever imagine. She bagged the title role in the Hollywood venture Kamasutra 3D – again, how? Would you want to see her in 3D or even 2D?
Aditi Rao Hydari
When Rakyesh Omprakash Mehra cast Aditi Rao Hydari as the character of Rama Bua in Delhi 6, he would never have imagined that the petite gal would soon be seen wearing an itsy-bitsy brightly coloured bikini. But to his surprise and ours, in Boss the pretty actor walked out of a swimming pool in an itsy-bitsy brightly coloured two-piece, looking very comfortable. The London Paris New York actor had never before shown such boldness. Do you like what you see, peeps?
Sunny Leone
Coming from a background very different from Bollywood, this adult movie star has definitely never held back from doing a bold scene. Be it in a pink bikini in Jism2 or a black one in Jackpot, the actor definitely has a gifted body and seems to take full advantage of that. She maintains that she has no regrets about her career decisions but wants to act rather than….err….anything else in her stint in B-town. BollywoodLifers, do you ever want to see her wearing a saree onscreen?
Poonam Pandey
'Naam to suna hi hoga' is perfect for PP, who has been doing whatever it takes to keep her name in the news. Poonam came into the limelight when she promised to pose nude if India won the cricket World Cup—a promise she never kept. And before we could thank our stars for that refusal, she posed naked after the Kolkata Knight Riders won the IPL. She was recently seen seducing a schoolboy in her Bollywood debut, Nasha. BollywoodLifers, do you ever want to see her again, clothed or not?
Veena Malik
The Pakistani actor shot to fame on the strength of two factors – her bold scenes and her stupidity. She started her Bollywood career with item numbers and moved on to do C-grade films that were nothing less than soft porn. She also posed nude for a magazine cover, but denied it right after publication. Alongside her body, she also showed off her stupidity. She was caught on camera mixing up the occasions of January 26 and November 26; the video of her gaffe was shared across various social networking websites. What do you say BollywoodLifers – should we ban a non-Indian who doesn't know when Republic Day is?
Mallika Sherawat
Of the many Bollywood ladies, if there is anyone who can be termed 'blonde', it is Mallika Sherawat. She has gone yelling from pillar to post about her kissing scenes in Bollywood movies and her Hollywood films, neither which has won her star status. She shot to fame with Khwahish and Murder and moved on to be part of massy hits like Welcome, Aap Ka Suroor and Pyar Ke Side Effects. Since then, apart from blink and miss item numbers, she starred in a TV show called The Bachelorette India: Mere Khayaalon ki Mallika, where all she did was share pool space with her suitors to make viewers' eyeballs pop. BollywoodLifers, do you think that she should permanently stay underwater?
Vidya Balan
One of the top female actors of Bollywood today, the Dirty Picture star was part of a dud film, Ghanchakkar, recently. But that was not what has kept her in news. Her photo shoot for Daboo Ratnani's calendar kept her in focus, posing provocatively holding a cigarette wearing just a jacket. Although the picture was lovely, keeping in mind her 'auntyji' image and her recent wedding with Siddharth Roy Kapur, does it work for her? What do you say, BollywoodLifers??
There you go – seven of the many ladies in Bollywood who dared to bare to grab attention, some with class and some, crass. Which one of them would you want to see again in all their glory? Go ahead and vote…