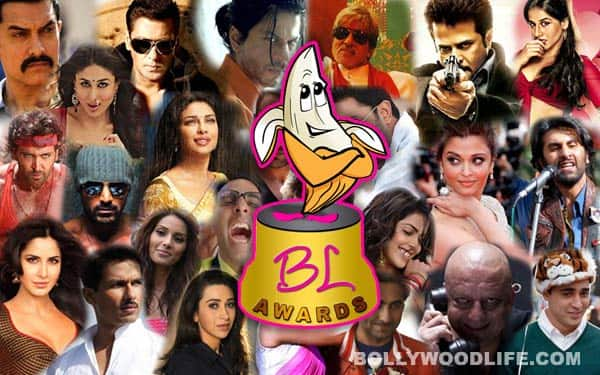 Here's your last and final chance to unleash your wicked and brutally honest streak by being a responsible voter who can help us hand over the coveted BL trophy to the most deserving starry folks…
The BollywoodLife Awards need no introduction. The response we get as we prepare to hand over the most notoriously dreadful trophies of all time is unbelievable! And now, as we sprint into the glorious third year of the event (online, of course), we find more fans and followers than ever, all eager to present their opinions on who is deserving of what crown.
While most routine filmi awards liberally engage in the regular practice of pandering to starry egos, we at BollywoodLife don't waste a minute in spotting real talent, making sure that the most deserving candidates are in centre focus on our shocking pink site. There are no echoes of applause, no noisy fanfare and no harsh arc lights – after all, the celebrities need to protect their gorgeous and hard-earned complexions, hai na?
So you won't spot celebs walking the red carpet in their best designer outfits, but you will definitely see them receiving our unique trophies for perhaps their delusions of style sense or maybe even a wardrobe malfunction or three. And hey, that's not the only category B-town peeps get nominated in. From the long forgotten faces of tinseltown (read: Ameesha Patel, Sushmita Sen) to the most auntyji of the showbiz lot (Aishwarya Rai Bachchan and Sonakshi Sinha are battling neck-to-neck at the moment, our vote-o-meter insists.), we ignore (read: spare) absolutely no one, no matter how loudly they or their managers may protest!
We also giggle hysterically when we help you choose the biggest crybabies of tellyland – does Karan Singh Grover have the most hyperactive tear glands? – and then we also make your colourful lives even more exciting by listing some of the steamiest bed scenes of 2013 to help you choose the most passionate onscreen moment of the year. Will Deepika Padukone and Ranveer Singh's lovemaking in Ram-Leela grab the prize before anyone else can take one deep breath?
If you missed out on any of our mad-mad categories and our inherent nastiness brimming with a tremendous helping of masti, here are the hatke categories presented exclusively for you once again. Take a look at these eye-popping nominations and cast your votes to make sure the most promising talents bag what they deserve – the highest of all accolades in a sparkling BL awards trophy!