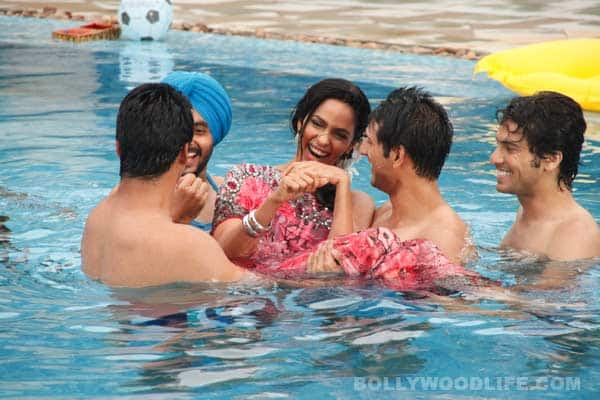 Is it possible that Mallika does anything without showing how bold she is, we doubt
The Bachelorette India Mere Khayalon Ki Mallika has been an entertaining reality show with lots of drama, action and romance. But the sexy element has been missing for a while, but not for long.
In tonight's episode of The Bachelorette India, Mallika Sherawat will give the boys a task of finding her heart from the bottom of the pool. And once the task is over, she will give the winners a special surprise. She will also jump in the pool and get all naughty with boys! Clearly the makers have come up with some interesting tasks to keep the audience and the contenders hooked.
So the task is that there are locked boxes at one side of the pool and the keys at the other end. Each suitor will dive into the pool to find the right key to a box which hides Mallika's heart. At the end of the task, Karan Sagoo and Vijay Singh together pick up Mallika and throw her in the pool. Of course everything is happening in the fun of the moment, but one contestant takes offense – Vinay Jhamb.
Will Vinay create an issue over it or will he nurse his jealousy silently? Keep watching this space to find out more!