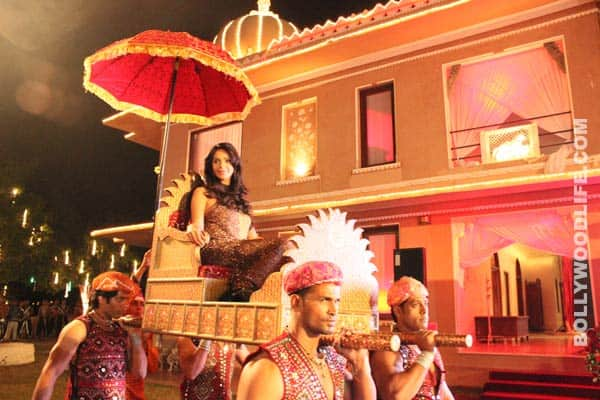 In this new reality show, 30 suitors from all walks of life marched in to woo Mallika Sherawat. Some came with roses, others with jewellery, while a few brought the quirkiest gifts we could imagine
The Bachelorette India – Mere Khayalon Ki Mallika is the desi version of the Warner Brothers' Bacherlorette. While the format is very similar, the drama is definitely unique. While the makers claim the reality show is very real, there seemed to be nothing 'real' about it. From the suitors' expressions to the emotions they displayed to Mallika Sherawat's reactions – everything seemed to be a work of fake art. However, the show did have some high points that left us rolling on the floor laughing. The first episode was simply an introduction and elimination round. The entry of 30 men, their attempts to impress Mallika and how ten were sent packing sums it up.
Men came riding camels, on rickshaws and in luxury cars, with drums and guitars added to make an impact. Of the 30, just about ten looked decent. Some were charming, musical, humble, honest and hardworking, while others came just to claim their ten minutes of fame. Of the 30 suitors, those we found interesting included the 63-year-old gentleman who was in tears even before the verdict. Guess he couldn't believe he was actually doing the wooing! The IITian seemed honest and not trying too hard.
The Sardar who just couldn't stop dancing gave the actor a jar of desi ghee – his jovial nature was a mood lifter. Next came a social worker-guitarist who ticked off Mallika when he decided to give her a long hug…ahem, ahem. Of course, Mallika's heart melted when he did the lost puppy act, apologising for his actions. The next suitor entered in a rickshaw and gifted Mallika a baby goat (kid) in a basket – very cute! The next gentleman took madness to a whole new level when he decided to carve Mallika's name on his arm with a blade; Mallika sent him packing almost immediately. Other gifts included jewellery, clothes, religious photographs, sweets and books.
After all 30 suitors were introduced, the men were given time to interact with Mallika and try to woo her. Those who left a lasting impression got a red rose from her, clearing them to go to the next level. Of 30, ten were asked to pack their bags and go home.
The show is a series of gimmicks with a miniscule proportion of reality in it – the location, if that. The ambience of the Jodhpur palace is one reason to watch the show. There is no doubt that Mallika's fake blushes and tears are gag-inducing, but the selection of suitors and their cheesy lines is what truly made us cringe. Of the 30 men who entered the show, we'd give our vote to three or four of them for being genuine and unique; the rest seemed like overgrown men who'd give an arm and a leg just to appear on TV.
Is Mallika really that desperate to opt for a reality show like this to get some work? It takes guts to humiliate oneself on national TV, so we applaud the girl for her courageous yet stupid move. The show is a complete package – it has humour, romance, action, fist fights, drama and lots of cheesiness. Watch it only if there is nothing else on television and you cannot find anything else to do!
Rating:
out of 5
Reviewed by Letty Mariam Abraham
* Poor
** Average
*** Good
**** Very good
***** Excellent