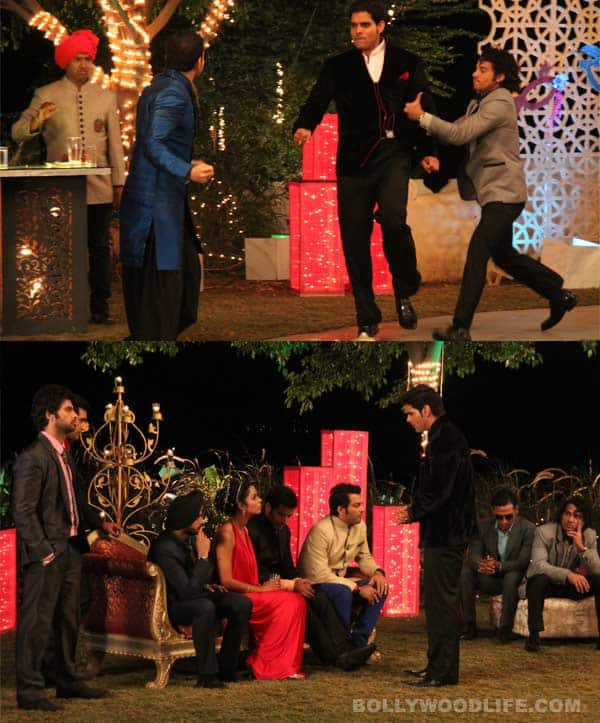 The men are fighting tooth and nail to get Mallika's attention and affection, but violence is definitely not the way to go people
In today's episode of The Bachelorette India – Mere Khayalon Ki Mallika, we will witness fist fights, abusive language and a triple elimination.
Two of Mallika's suitors Jagjit Atwal – the body builder and Udit Ohri – the infamous kabaddi contestant get into a verbal spat. Ugly and abusive words are exchanged much to Mallika's displeasure. The fight escalates to such a big affair that the shoot had to be stalled for two hours to keep the gentlemen in control and to avoid a blood bath.
Udit pleads to be excused from the show and walks out. Jagjit, who had been charming Mallika with his big body and small head, was asked to leave for his unruly behaviour. In spite of the two exits, Mallika still goes on to the rose ceremony where she eliminates Captain Aditya Bohra from Bikaner.
This is not the first time that we've seen a verbal spat go ugly on the show. Only recently, Mallika had tête-à-tête with the boys to find out what happens between closed doors and who is fake on the show. The outcome was indeed ugly wherein Mallika was apparently called everything from a slut, to a whore to a prostitute by the suitors. Now no one had any proof, but allegations were made on who said what which made Mallika walk out of the sets and stall the shooting for three days. Tch…Tch… boys!
All said and done, the show must go on, and to that effect Mallika walked back and continued like nothing ever happened. We wonder if she's still looking for true love among these men.