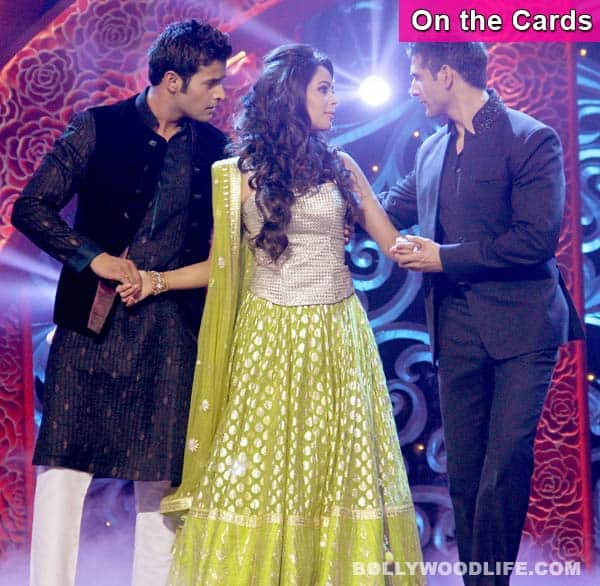 The bold babe had a tough choice to make when 30 suitors came to woo her. As the episodes went, one by one they all got eliminated leaving teo eligible bachelors behind
People have been trying to second guess her final decision on The Bachelorette India Mere Khayalon Ki Mallika and it has been a lot of fun. So we called our in-house expert Tarot Reader, Shruti Chopra to put some light and tell us who Mallika Sherawat is likely to choose and what will happen once she picks the guy.
BollywoodLife (BL): Who will Mallika choose? Vijay Singh or Karan Sagoo?
Shruti Chopra (SC): Mallika has a high level of interest and desire for both but for different reasons. Let me explain this further.
Vijay Singh – Mallika see's strengths like comfort and control in him. A sense of security that he will protect her, yet she fears that he is not as worldly wise as she is. But again she finds him mouldable. There are a lot of positives being drawn in their combination together.
Karan Sagoo – Mallika likes the type of independence he carries, but the Three of Swords indicates a major concern, probably a sense of dishonesty. She may just fear that he won't be the faithful type. This is just an assumption, but this could be an important consideration for her.
Out of the two, Vijay Singh is a better match for her and a stronger contender too.
BL: Does Mallika really have any desire or plans on getting married to either of these suitors? Or is this just a show for her?
SC: It's a bit of both. She likes the suitors, but the Nine of Pentacles gives larger importance to the type of financial benefits she has gained from the show. She will certainly date the person she chooses, but she is still not entirely comfortable with the thought of marrying this person. She will take a long time to commit to such a level. This is mainly indicated by the Seven of Cups and the King of Pentacles, where one card represents clouded and confused judgement, whereas the other emphasises comfort in her own world.
BL: Will there be future seasons of this show?
SC: There will be one more season of this show, which may pick up better than this one, but it will not end very successfully. The Two of Swords advises the makers to be more realistic and make some dramatic changes to see it do better in its' second season.
BL: What is Mallika's future post this show?
SC: The show does not better or worsen her position in Bollywood. Amongst some terrible offers, she will be presented some very good projects by August 2014, but her judgement will be a little off. She will have to be stricter with herself and take a longer time to think of what she should and should not be doing. Otherwise she will run the risk of jeopardising some exciting potential.