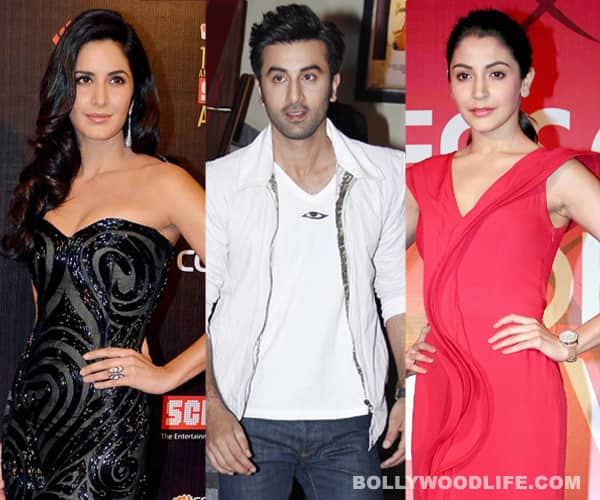 Ever since Kat and Anushka came together in Jab Tak Hai Jaan, the two have been in the news coz their personal equation keeps changing. That's the reason we are curious to know what's actually happening between these two beauties. As for Ranbir… read on to know why we find his case so curious…
First there were rumours about Katrina Kaif and Anushka Sharma falling out over sharing the same make-up man. Then the two patched up after Ms Sharma invited her senior co-star to the special screening of her film Matru Ki Bijlee Ka Mandola. And just when we thought all was well between the two ladies, rumours come pouring in that Kat and Anushka are not on talking terms. We hear that Ms Kaif, who was accompanying her alleged boyfriend Ranbir Kapoor to Sri Lanka, returned to Mumbai a day before Anushka joined the cast and crew of Bombay Velvet on the island. Buzz is strong that the two actors want to avoid any sort of interaction.
And now we want to know: why? Do Kat and Anushka really share cold vibes? What has gone so sour suddenly between the two that they can't stand each other any longer? In fact, there is a mutual admiration society between the two babes, we do know. So wethinks all the hoopla around the Jab Tak Hai Jaan co-stars not getting along shouldn't be taken too seriously – after all, there's a reason that something is called a 'rumour', no?
Reports are also doing the rounds that of late Ranbir has been gelling well with Anushka and this has miffed Kat. Well, if that's really the case, then Katrina may never get along with any of her contemporaries, since most of them have been linked with the Kapoor lad! Be it Nargis Fakhri, Priyanka Chopra, Sonam Kapoor or Ileana D'Cruz, according to gossipmongers, RK Jr has had a fling with each of them. Now we all know that Ranbir is the Cristiano Ronaldo of Bollywood – too hot to handle! But is he really a womaniser? Wethinks not. The dude is yet to master the art of handling women with finesse. Poor Ranboo is already having a tough time managing two girls that are currently in his life – alleged girlfriend Kat and ex-flame-co-star Deepika Padukone. So we are sure his eyes aren't roving, not now at least.
Guess Ranbir needs to learn few tricks on how to manage more than one woman at a time from Daddy dearest, who was said to be the ultimate charmer in his day…Rishi Kapoor!