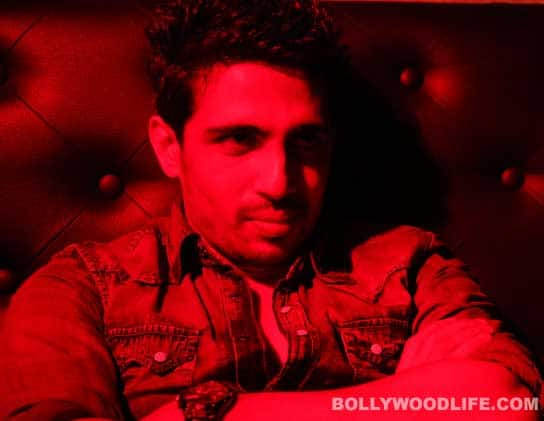 Hindi films have been a part of his life ever since he can remember. The handsome 'Shaitan' shares his influences and his love for cinema…
From the pristine world of theater in Bengaluru to the big, bad world of Bollywood, Gulshan Devaiya loves every moment of facing the camera.
Did you always want to be an actor?
I am from Bengaluru and my parents were heavily into Hindi cinema, so much so that even my name was picked from the film Phool Khile Hain Gulshan Gulshan. I also remember wearing an Insaaf Ka Tarazoo tee! It was that filmi a household. My mom was in the theatre circuit (she was an actor) and I used to go with her for her plays, et al. Consciously, I decided to become an actor when I turned 25, as I thought there was nothing else I wanted to do. I did a few episodes of television serials in Bengaluru, but somehow it didn't work for me, which is why I shifted to Mumbai. Hindi films captured my imagination!
Your role in Shaitan was that of a possessed psycho; probably the most demonic of the lot. How did you bag that part?
Actually, my first film was Anurag Kashyap's That Girl In Yellow Boots (TGIYB), which is yet to be released, and the director of Shaitan, Bejoy Nambiar, had seen me in that and liked my acting. One fine day he called me over to do a look-test for his film. Initially I was supposed to play the cop's part (which then went to Rajeev Khandelwal). I hung around for the whole day running (they were filming the chase sequence), but somehow I didn't make the cut. The role then went to Rajeev Khandelwal, but there were two more guys yet to be cast. I told Bejoy that I wanted to play the role of Karan Chaudhry (KC), for which I auditioned – and it just fell into place. I became KC and surrendered to the demon. The character KC had nothing to do with moderation, as he was high on power. He did things just because he could!
Are you anywhere close to the Shaitan character in real life?
Absolutely not! I used to get beaten up by the bullies at college. I never retaliated… I guess Shaitan was my revenge. I am a very decent and down-to-earth person, thanks to my upbringing.
What about your role in Anurag Kashyap's That Girl in Yellow Boots?
When I met Anurag Kashyap, I could sense that he saw potential in me. I am playing the role of a South Indian gangster in his film. The common perception of a South Indian gangster is that of an archetypical 'Madrasi', but people forget that there are more states in South India than just Tamil Nadu. My character is named Chittiappa – he is a gangster and provides comic relief, as he is unintentionally funny. The character is on the lines of the cult Kannada song 'If you come today'. When Dr Rajkumar performed the song, he wouldn't have been aware of the underground cult it would be; he would have done it in all earnestness. That's the story of Chittiappa in That Girl…
Aren't you concerned about being typecast, as you have played the role of a tripping guy in both your films – Dum Maaro Dum and Shaitan?
If you look at both the characters closely, they are different. While KC is edgy, Ricky (in DMD) is sly and Chittiappa (TGIYB) is another ballgame altogether. The only thing I don't like to portray is myself, onscreen. Though in every character I play, there will be a little bit of me somewhere, but as an actor my quest is to minimise it as much as possible without losing my sanity.
Three films down, and you have worked with three different directors who have different sensibilities. As a newcomer, what were the challenges you faced?
My first film, TGIYB, was one helluva awesome experience. Great minds, insane energy and so much freedom! The best thing about working with Anurag Kashyap is that he gives you space as an actor. He will let you do your thing and even use it, if it works for the film. At the same time, he is so much fun. DMD director Rohan Sippy's filmmaking is far more meticulous. Every scene is planned till the last second. If a scene has been given 2 minutes and 10 seconds, it has to end there; the actor can't go beyond the time allotted. Shaitan director Bejoy Nambiar is another school altogether; he tends to be heavily invested in the visual aspect of filmmaking. With him in charge, the actor has to remember that his physical movement can't go beyond a certain point because the frame gets disturbed as the set has been lit up in a particular way for a very certain look that he has planned. It might sound very difficult, but it is not rocket science.
After two films with Anurag Kashyap (Shaitan is Kashyap's production) would you be comfortable doing a Yash Chopra film?
Why not! I have grown up watching Hindi films of all kinds. I like to surprise myself. I think I surprised Bejoy Nambiar with my performance in Shaitan. I believe that if I surprise myself, I can surprise the audience. I am open to all kinds of roles as long as they are performance oriented. I am not influenced by Anurag Kashyap in any way. I do ask him for suggestions, but that's about all. I have my own idea of cinema and just because I have done two films with him, I will not subscribe to his cinematic sensibilities. I have seen a wide range of films from all over the world – Korean films, European comedies, even mushy films like Harry Met Sally, in various phases of my life.
What do you choose – theatre or cinema?
Theater is my teacher; as far as acting goes, I owe it to the work I did in theatre, but cinema is my love.
Is it because of the fame that you have got in films?
My prayer to God is, don't give me overnight success. I like to have my head on my shoulders and feet firmly on the ground. I wish to be the same person that I have always been. Even after becoming an actor, my parents treat me like they have always done. Nothing has changed.