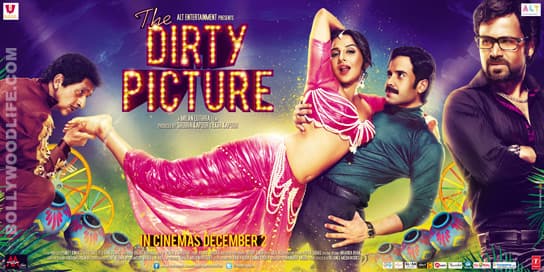 Click to watch trailers, songs, see pictures, and read gossip about Vidya Balan's The Dirty Picture
Vidya Balan's biopic on the '80s Silk Smitha releases on December 2, 2011. Here's a lowdown about the film:
STORY
Imagine a make-up girl who became an extra and then the most wanted heroine of the early eighties. Chronicling the meteoric rise and steep fall of the erstwhile screen sensation – Silk Smitha, The Dirty Picture is set against the colorful and entertaining backdrop of the south film industry of the '80s. The quintessential siren, Silk, knew her audiences, and it didn't seem like anything would stop the fiercely ambitious starlet, till it did, in the shape of unrequited love. To the world, she was the queen of sensuality. But at heart, Silk was just another woman craving true love.
NEWS & GOSSIP
Now, 'Dirty' Vidya Balan has her own 'Secret'
Is Vidya Balan going overboard with her 'dirty' act?
Does Vidya Balan have the Silk-y touch?
Vidya Balan: I enjoyed doing 'The Dirty Picture'
Is Emraan Hashmi trying to outdo Vidya Balan with 'The Dirty Picture' promotions?
Vidya Balan to dance with Saroj Khan on Nachle Ve 3!
Vidya Balan is hot in 'The Dirty Picture': Tusshar Kapoor
Silk Smitha's brother sues 'The Dirty Picture' makers
Vidya Balan impressed with Tusshar Kapoor's kiss?
Should Vidya Balan dirty dance in public?
Amitabh Bachchan does some 'Dirty dancing' with Vidya Balan!
Vidya Balan's beau upset with 'The Dirty Picture' kissing scenes
Should Vidya Balan be Silk off-screen too?
Vidya Balan's belly goes ooo laa laaa…!
The Dirty Picture to feature Nakka mukka!
Vidya Balan makes local tailors' dream come true
Can Vidya Balan be the hot and sultry Silk Smitha?
Vidya Balan shows off more than usual in 'The Dirty Picture', but says it's clean
Vidya Balan 'dirtier' than Emraan Hashmi? He says so!
What we loved about 'The Dirty Picture', 'Agneepath' and 'Rockstar' trailers!
'The Dirty Picture' promo gets U/A certificate
Rajinikanth in 'The Dirty Picture': fans not happy
Vidya Balan took time to become Silk Smitha
Vidya Balan: Hot scenes from 'The Dirty Picture' not sleazy
Vidya Balan hospitalised: 'Dirty Picture' left her stressed?
Can Vidya Balan do the hot and 'dirty' act?
Tusshar says no to dirty workshop for Dirty Picture
PICTURES
Emraan Hashmi goes to Ajmer to promote 'The Dirty Picture'
Vidya Balan promotes 'The Dirty Picture' at Mahalaxmi race course
Emraan Hashmi promotes 'The Dirty Picture'
Vidya Balan,Tusshar Kapoor, Emraan Hashmi promote 'The Dirty Picture' in Delhi