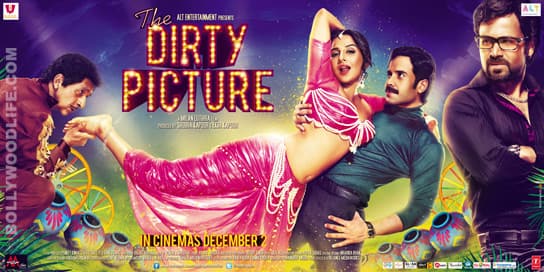 Milan Luthria's The Dirty Picture works for three reasons: Vidya Balan's courageous performance, fiery dialogues and a story with heft. But a word of caution: leave behind your prudishness and carry your soul on your sleeve to enjoy the essence of a screen siren's tragic tale
When you look at the promos of The Dirty Picture you wonder if sex and sleaze is all there is to the biopic loosely based on the story of one of the reigning dancing sensations of the South film industry – Silk Smitha. In the 1980s, she became a quintessential part of southern films because she guaranteed profits with her raunchy and uninhibited performances.
This one is the fairly clichéd story of the rise, reign and fall of a movie star. In The Dirty Picture she's a dancing queen born Reshma-rechristened-'Silk'. The film begins with a scene of a young teenager, Reshma, being chided by her mother for flouting her diktats. Next scene, a slightly older Reshma jumps out of the window of her house to escape her own wedding. Cut to a few years later – Reshma (Vidya Balan) is faking the sounds of an orgasm to prevent a couple in the next house from making out, just so she can sleep peacefully. Right then you know that this girl is willing to go to any lengths to get what she wants. And Reshma wants to shine bright in the arc lights.
So every day she stands in line outside film studios for roles, but is rejected and thus dejected. One day the casting agent tells her that she lacks namak (salt) and can play neither be a mehbooba (lover) nor a biwi (wife). That's it; she plays up her sexuality to climb the popularity ladder with her audience, her lovers Suryakant (Naseeruddin Shah) and Ramakant (Tusshar Kapoor) and her producers. The first half swiftly takes you through Reshma's journey from an out-of-work extra to the reigning item girl who personifies sexy: Silk.
In the second half you see her downfall from a successful star to a lonely, alcoholic and depressed fading star. That's when the glitches in the script crop up. Neither is Silk's decline as engaging as the rise, nor is the pseudo-intellectual director Abraham (Emraan Hashmi)'s sudden change of heart for the sexy siren convincing. He hates Silk because ever since her arrival in the industry her sexy songs and raunchy scenes have become the unique selling points of films, thus demeaning a director's significance and intelligence. So how can he overlook this overnight?
Barring this incomprehensible jump, writer Rajat Aroraa has done a fantastic job in creating an engaging screenplay spiced with fiery dialogue. An hour into the film and you lose track of the punch lines, since there far too many to remember. But there are some that stay in your head even after you walk of the theatre: Silk to Ramakant: "Hero ho ya villain, har kahani ki vamp main hi hoon (It doesn't matter who is the hero or villain, I am the vamp of every story)". Suryakant to Silk: "Tum raaton ka raaz ho jo din ko nahi kholte (You are a secret of the night that cannot be revealed in broad daylight)".
When you have an actor like Naseeruddin Shah mouth such feisty lines, the outcome is brilliant. Also, the general perception of a South Indian film superstar is a dark-skinned, potbellied actor, but physically Naseer doesn't look anything like that. It's his acting expertise that makes the character come alive.
Similarly, Emraan does a good job as a frustrated director. Fortunately, both Vidya and he are powerful performers, so their dialogues and body language are enough to convey the sexual tension between them. As for Tusshar Kapoor – is it the brief role or his limited acting skills that makes it seem as if he is trying very hard to play an aspiring writer? In one scene he does impress with his antics, though – one night, Silk tells Ramakant that she will make him a man from a boy, and he is thrilled to bits; he breaks into an overzealous dance that will definitely make you laugh.
And the most important actor in the film: Vidya. Her performance has reaffirmed that there is no female actor as powerful as her right now or on the immediate horizon. Her character's long journey from an aspiring dancer to a rising star to a reigning queen to a betrayed woman to a jealous fading star to an alcoholic, depressed has-been gives her scope to bring out her best. This year, Ranbir Kapoor (Rockstar) and she deserve thunderous applause and unlimited accolades for their brilliant performances.
Music duo Vishal-Shekhar's 80's style dhinchak songs and Sandeep Shirrodkar's characteristic background score enhance the engaging plot. Cinematographer Bobby Singh's camera work makes the garish environs in the film a pleasure for the eyes.
Overall, Luthria tells a tragic story of a sexy siren in a celebratory way. As Silk says, "A film works for three reasons: entertainment, entertainment, entertainment". The captain of this ship has ensured that his film comprises all the ingredients – love, laughter, drama, action (restricted to the bedroom!) and tragedy – that makes an entertaining film! One that is well worth a watch.