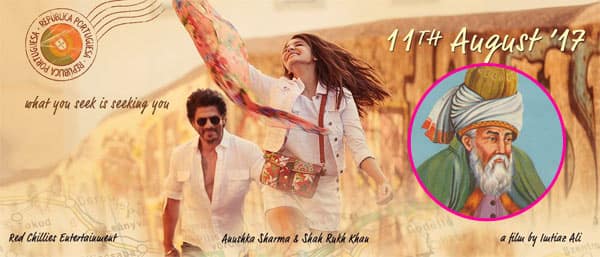 In an extremely unexpected move, Salman Khan revealed the first look of Shah Rukh Khan's second movie in 2017. Imtiaz Ali's movie has Shah Rukh Khan woo Anushka Sharma, and the poster of the yet untitled movie  has him trail behind Anushka Sharma, with both wearing matching white attires. The entire poster looks like a picturesque postcard from a travel destination. However, what interested us the most about the poster was the slogan of the movie – What you seek, is seeking you.  So are Shah Rukh Khan and Anushka Sharma seeking love in the movie, but love is actually seeking them?
Not many know this, but this line is actually taken from a couplet of a 13th century Persian poet, Jalāl ad-Dīn Muhammad Rūmī, or simply known as Rumi. Interestingly Imtiaz Ali who seems to be an avid lover of Rumi's poem has used one of his near the conclusion of his Ranbir Kapoor-starrer Rockstar, that we have given below…
""Away beyond ideas of wrongdoing
and rightdoing, there is a field.
I'll meet you there.
When the soul lies down in that grass
the world is too full to talk about."
Shah Rukh Khan plays a Prague-based guide in the movie, that too a flirty one at that So we guess Anushka Sharma who might be playing a tourist has come to the place to seek some answers and maybe it is SRK who is finally the one she seeks. Just guessing. Meanwhile Shah Rukh Khan and Salman Khan also want you to guess the title of this one. Well we have a few… Jab They Met, Safarnama, Guide… Any takers?
The movie is scheduled to release on 11 August 2017, perhaps releasing a week before Akshay Kumar's Crack.