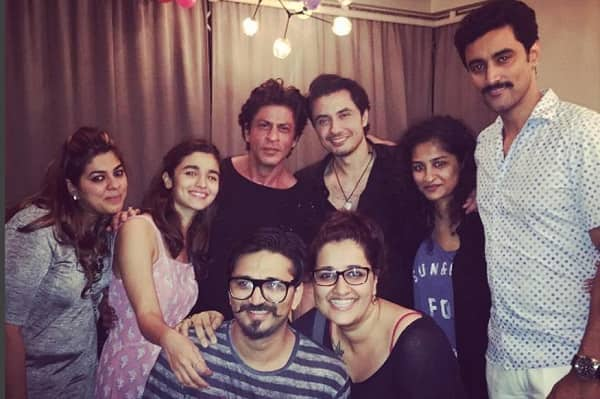 With the ongoing fracas over Karan Johar's Ae Dil Hai Mushkil, even the other upcoming films starring Pakistani artistes are facing the heat. In the meanwhile, we have from our sources that the makers of Dear Zindagi have taken a lessor or two from the ADHM controversy. As you know Ali Zafar is having an important role in the film, that has Alia Bhatt in the lead and Shah Rukh Khan playing Alia's life coach. Ali Zafar is playing one of Alia Bhatt's four boyfriends in the film, the other three being played by Aditya Roy Kapoor, Kunal Kapoor and Angad Bedi. Since there is a very negative perception about Pakistani actors, the makers of Dear Zindagi is taking a precautionary move by not having any of Ali Zafar's scenes in the first trailer. Interestingly, Karan Johar is the producer of Dear Zindagi, and this is his way of adapting after the Ae Dil Hai Mushkil fiasco.
However that doesn't mean that Zafar's role will be cut from the film; his role will just be underplayed in the promotions, like how they did with Art Malik in the recently released Mirzya. Dear Zindagi is directed by Gauri Shinde, who made a scintillating debut with Sridevi's comeback vehicle English Vinglish. The film is scheduled to release on 5 November 2016.
If you are not aware of what's happening with ADHM, let's give you a brief. Apparently political parties are clamouring to ban Ae Dil Hai Mushkil just because Fawad Khan is in the film (never mind his role is more of an extended cameo). So for the sake of one Pakistani artiste, they don't mind banning a film that also involves the blood and sweat of hundreds of Indian artistes and technicians. While Indian Motion Pictures Producers Association have already put a ban on Pakistani artistes working in future films, they had appealed to political parties to not create any kind of interference in the release of the completed films. However certain theatre owners, fearing disruptions during the screening of the film by these parties, are planning to ban Ae Dil Hai Mushkil from their end. While this move is heavily criticised, we do understand their apprehensions.
Alia Bhatt and Kunal Kapoor's chemistry in Dear Zindagi is something we are looking forward to

Look at the adorable smile on Alia's face as Kunal whispers in her ears. This is a really cute still from the film.

Image credit: Facebook

We wonder what Alia Bhatt is thinking in this still from Dear Zindagi

Alia looks out of the window, thinking about something. Her smile is unmissable. Penny for your thoughts Alia?

Image credit: Facebook

The new still of Alia Bhatt from Dear Zindagi will make you want to embrace life with open arms

Clad in a red gown and standing by the sea, this new still of Alia Bhatt is the best thing to start your day with.

Image credit: Twitter

Alia Bhatt in a never seen before avatar in the new look of Dear Zindagi

Alia looks lost in deep thoughts in the picture. We love Alia's thoughtful look in this still and her new look with specs is something we are rooting for.

Image credit: Instagram

Alia Bhatt's new still from Dear Zindagi reminds us of Kareena Kapoor Khan

Alia's this sexy avatar in all black along with the fedora hat reminded us of Kareena Kapoor Khan in the song High Heels from Ki & Ka. The resemblance between the two is undeniable.

Image credit: Instagram

Alia Bhatt shares a picture with Shah Rukh Khan from 'Dear Zindagi'

Alia and Shah Rukh had fun time shooting for the movie and Alia shares it.

Image credit: Twitter

Alia Bhatt shares release date of 'Dear Zindagi'

Alia excitedly shared the release date of her and SRK starring 'Dear Zindagi'.

Image credit: Twitter