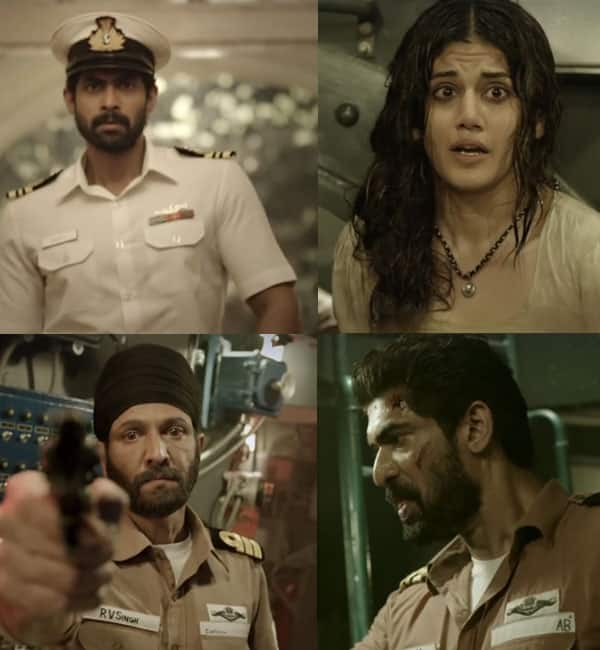 The Ghazi Attack, is undoubtedly one of the most intriguing projects of 2017. It's the first submarine based war film that talks about the mysterious sinking of the Pakistani submarine PNS Ghazi off the Eastern seaboard in 1971. Directed by Sankalp Reddy, the movie is also reportedly based on the director's book – Blue Fish. Apart from this unique storyline, the cast also looked promising on the poster that released yesterday –  Rana Daggubati, Taapsee Pannu, Kay Kay Menon and Atul Kulkarni. And now the trailer of The Ghazi Attack is here – The underwater setting has blown away our mind ! For the first time ever, we will have a film that has been shot in a submarine! It totally transported us back in time. Seriously, we just can't get over the dark-aqua theme. These compelling visuals had us almost distracted from the cast. Rana for one makes for one of the hottest naval officers we have seen. He plays Lieutenant Commander Arjun Verma. As for Taapsee Paanu, she plays a refugee who goes by the name Ananya. Kay Kay Menon and Atul Kulkarni also leave you curious. We are glad the makers decided to narrate this mysterious tale. We can't wait for The Ghazi Attack, on 17th February. The film will release in Telugu and Hindi. (Also Read – Rana Daggubati turns a HOT naval captain in his first look of Ghazi – view pic)
Now, the one thing that stands out in the trailer is the submarine – we wonder what it was like shooting inside one? Well, we have the answer – In an EXCLUSIVE interview with Bollywoodlife,  Rana Daggubati explains what it was like  – "We built two large submarines in Hyderabad and we shot in two languages, Hindi and Telugu. It's based on true events that happened in 1971 before the war broke out in India. So it's one of those conspiracy tales that wasn't told and when we heard it, we thought it was a very important story to tell. And it happened on the coast of Vizag, which is a place where I grew up in my childhood, where I know of very well. It was rather difficult in terms of sitting inside a submarine and shooting for it. Inside a submarine you lose track of time, daylight (which we didn't figure when we got in), but we are very excited." So are we!

So how did you like the trailer? Was it something you expected or did the unique theme just leave you stunned?  Stay Tuned for more updates on The Ghazi Attack. This film is clearly nothing like what we have seen before.