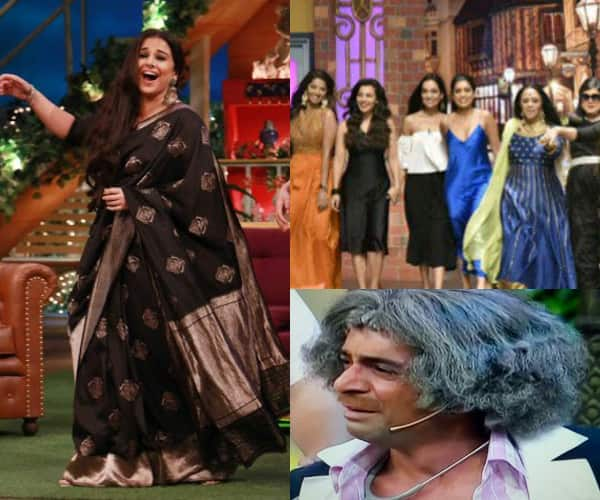 On tonight's episode, Vidya Balan brought her entire girl gang from Begum Jaan to Kapil Sharma's show to promote their upcoming movie. So apart from Vidya, there was Ila Arun, Gauhar Khan, Pallavi Sharda, and others. Since Begum Jaan is a movie about sex workers (and their struggles to retain their home when India and Pakistan drew borders through their haveli), we don't know if that was the reason for some many innuendoes cracked during the episode. Vidya Balan was extra giggly tonight and some of her jokes even embarrassed Kapil Sharma, something with Navjot Singh Sidhu pointed out.
On the plus side, there was a part early on where Kapil Sharma and Ila Arun sing a little known song of hers in a beautiful way. Kapil Sharma surely sings great, and the guests praised him for that. But to negate that, Ila Arun also sang her very popular song Yeh Gori Kaisi Jawaani Hai, with errr… too much ooohs and aaahs than required. Perhaps Kapil Sharma forgot to remind her that this is a family show that kids watch, like he did earlier with Vidya when she cracked an innuendo about being a different kind of naughty with her husband Sidharth Roy Kapur.
Then after the usual interactions with the audience members and some of the cast, finally the man whom we were eagerly waiting for, appeared – Sunil Grover. And it was quite an interesting portion after his entrance, since it gave a hint of his infamous rumoured assault by Kapil Sharma. When Sunil sings a song, Kapil tells him that if he sings like this, people will break his face. To which, Sunil Grover replied whether his face is like a traffic signal for people to break. That's prophetic, isn't it? So did Sunil Grover sang on the flight that made Kapil Sharma go red and beat him up?
Anyways, the till then cold episode ended on a high when Grover sang and danced to Mere Angane Mein with the cast of Begum Jaan. Not sure we are going to see him in the next episode, though…