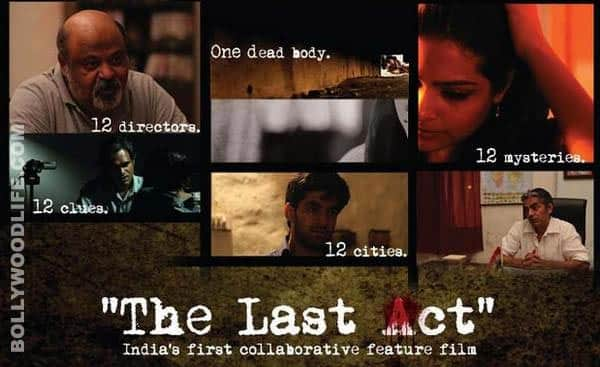 Anurag Kashyap's latest production has 12 stories created by 12 directors – is a novel idea that goes a bit haywire in its execution
It all starts with a dead man, a mutilated corpse found on a dingy Mumbai street. Nobody knows who he is, but it is suspected that he is a backstage worker in a touring theatre company. The manager is played by Saurabh Shukla and the suspected victim by Shreyas Pandit. And there is evidence that needs to be linked to identity. That is when the story starts to unravel – where it goes depends on who is directing it.
The filmmakers were chosen by Anurag Kashyap, Sudhir Mishra and Chakri Toleti from 600 entrants; they would not meet each other, there would be no collaboration and each had to make a 10-minute short film that would then slot into the bigger…err…picture. Each short film would be set in a different city in India – Mumbai, Delhi, Kolkata, Chennai, Gwalior, Pune, Kalyan, Ghaziabad, Chandigarh, Bangalore, Hissar, Lucknow – and various Indian languages would be used, with English subtitles to make better sense.
Good plan. We liked the idea. Experimentation zindabad!
And then we saw it. It is dark…literally. Very Kafka. Existentialism rules, philosophy flavours. Consider the men who chose the directors, after all! Asif Basra is kinda cool as the policeman who investigates the case. Evidence shows that the man had lived a rather interesting life, to put it tactfully, travelling across the country, which neatly fits the 12-city concept. And even as we watch, we start understanding the point that the filmmakers have been briefed to be deliberately off-beat, off-key, off-kilter even. 'Hatke' pushed to the brink of bizarre, with no one perspective that is normal, down-to-earth, clear. These are young directors, people who could make a mark on cinema with a little more experience and identity with their audiences. But it feels as if they are all trying way too hard to be noticed by their mentors, themselves mavericks in their space and time.
So does it work? It could have. Except that it goes on and on, over about two and a half very slow hours. The quality of direction varies, of course, as does the actors' ability to fit the role, the story and the rather unconventional format. It is different, a start at more innovative filmmaking. But, as the producers have the good sense to caution viewers at the very start, it is certainly not the kind of movie the average Bollywood fan would be comfortable watching.
Rating: Two stars…for each director!
Rating:
out of 5
Reviewed by BollywoodLife
* Poor
** Average
*** Good
**** Very good
***** Excellent