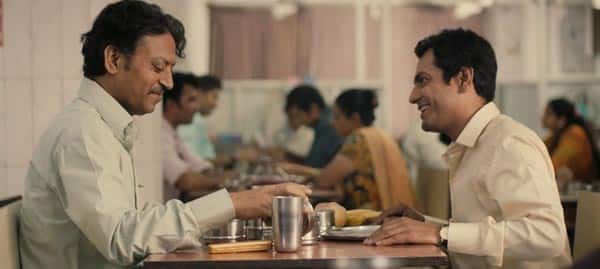 Cineswami tells us how the Irrfan Khan starrer could still win an Academy Award
Ritesh Batra, Karan Johar, Anurag Kashyap and all those bemoaning the fact that The Lunchbox is not India's entry to the Academy Awards' foreign language category can take heart. It is technically possible to send the film to the Oscars, just not in the Best Foreign Language Film category as the Academy rules clearly state: "Only one picture will be accepted from each country."
The Academy rules also state that to be eligible, a film has to be "publicly exhibited for paid admission in a commercial motion picture theatre in Los Angeles County; for a qualifying run of at least seven consecutive days; and advertised and exploited during their Los Angeles County qualifying run customary to industry practice." The qualifying run has necessarily to be before December 31, 2013.
Let's look back at 2002. All of the smart money was on Pedro Almodovar's Talk To Her being Spain's entry in the foreign language category. Spain pulled an FFI and chose Fernando Leon de Aranova's Mondays In The Sun as the official entry instead. Instead of hand-wringing, the film's US distributor Sony Pictures Classics rolled up its sleeves and gave the film its US premiere at the Telluride Film Festival, in April, where it was warmly received. Later, in July, the film stunned audiences at the Karlovy Vary Film Festival. Another prominent North American festival where Talk To Her played to great acclaim was Toronto in September, where it wowed rapt audiences.
A few more festivals later, the film opened in New York in October. On December 13, Talk To Her had its Oscar qualifying run in Los Angeles. On Christmas Day 2002 the film went on wider release in the US. Do remember that Talk To Her is a Spanish language film that most non-Hispanics had to watch with subtitles and that the film featured actors unknown to wider audiences. Sony Pictures Classics ran an aggressive marketing campaign and took out 'For Your Consideration' ads in trade publications like Variety, requesting that Academy voters consider Talk To Her in several other categories, but obviously not the foreign film category.
Nomination day dawned and Almodovar was nominated for Best Original Screenplay and Best Director. And, when the night of the 2002 Oscars came around, Almodovar won Best Screenplay. Not bad for a film shut out by its own country. Incidentally, Mondays In The Sun did not even secure a nomination and the Oscar went to Caroline Link's German film Nowhere In Africa. India's entry, Sanjay Leela Bhansali's Devdas, did not get nominated either.
Like Talk To Her, The Lunchbox is riding the wave of much acclaim both at home and abroad. Like the Spanish film, The Lunchbox has had acclaim at Telluride, Karlovy Vary and Toronto. Unlike Talk To Her that released in Europe before Cannes, The Lunchbox has the advantage of being a Cannes selection. Unlike Talk To Her, The Lunchbox has a face known to Academy voters in Irrfan Khan, thanks to Life of Pi and Slumdog Millionaire. And guess who the US distributor of The Lunchbox is? Yes, Sony Pictures Classics.
So instead of the whingeing, if team Lunchbox act constructively and get Sony Pictures Classics into the act, the film can earn nominations in a number of categories, just not foreign film. And this could be a great opportunity for the world class Irrfan Khan to get a Best Actor nomination, Nimrat Kaur for Best Actress and Nawazuddin Siddiqui for Best Supporting Actor and maybe for Batra's script. Believe in the film, get Sony Pictures Classics to bring their marketing might and their stellar record at the Oscars (films distributed by them have a mighty 109 Oscar nominations) into play and perhaps The Lunchbox could win an Oscar after all.