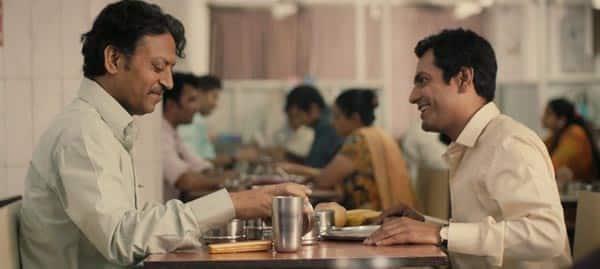 Ritesh Batra's The Lunchbox is like a breath of fresh air and will certainly leave a big smile on your face by the time you exit the theatres
The Lunchbox (Dabba) starring Irrfan Khan, Nimrat Kaur and Nawazuddin Siddiqui is a bittersweet love story about two strangers who have never met and communicate only through notes. Set in the backdrop of Bombay, Irrfan (Saajan Fernandes) is a widowed employee who works for the government of India and is about to retire after 35 years of service. Nimrat (Ila) is a housewife whose life revolves around her daughter Yashvi and husband Rajeev, who has lost all interest in her. So to spice up her dull marriage life, Ila decides to cook a delicious lunch for her hubby which would be delivered at his office by dabbawallahs. Yes, the famous dabbawallahs, whose impeccable working mechanism is synonymous with Mumbai and continues to bemuse one and all.
So the story takes off when the dabba prepared by Ila lands up at Saajan's desk. The next day Ila sends a note along with the dabba and Saajan reverts with a note too. From discussing food to confessing their innermost feelings, Ila and Saajan keep exchanging notes and end up finding a confidante in each other. And finally they decide to meet. But do they come face-to-face? Well, we aren't going to give it all away so you need to watch the film for that!
The old-fashioned romance between Ila and Saajan reminds you of the time when there were no mobile phones and people wrote letters to their near and dear ones. Besides the two lead actors, there is Nawazuddin (Aslam Shaikh), who is hired to replace Saajan after he retires. While Saajan doesn't like Shaikh initially, the two slowly become fond of each other and establish a father-son like relationship, which is very endearing. Nawazuddin's comic timing is bang on throughout and it's an absolute delight to watch him and Irrfan share the screen. Then there is Bharati Achrekar (Mrs Deshpande), who lives just above Ila's home. You don't get to see her even once, but you hear her voice. Every conversation between Ila and Mrs Deshpande aka Aunty is engaging and funny.
All the characters have been defined nicely by the debutant director. From the train sequences to how the dabbawallahs work and then linking the Hindu Ila with the Christian Fernandes and the Muslim Shaikh, first-time filmmaker Ritesh Batra has captured the real essence of diverse Bombay beautifully in the film.
As far as acting is concerned, Irrfan plays the part of a lonely old man effortlessly. Nimrat and Nawazuddin are flawless in this old-world charm, unconventional love story. Lastly, what kept lingering in the mind even after the movie was long over were these lines: We forget things if we have no one to tell them to, and sometimes, even the wrong train can take you to the right destination.
If you are looking to watch a masala entertainer then The Lunchbox won't appeal to you. But if meaningful cinema is your craving then this is one film you wouldn't want to miss. FYI: Every time Ila packs the lunchbox, the oh-so mouth-watering food leaves you hungry!
Rating:
out of 5
Reviewed by Namrata Thakker
* Poor
** Average
*** Good
**** Very good
***** Excellent