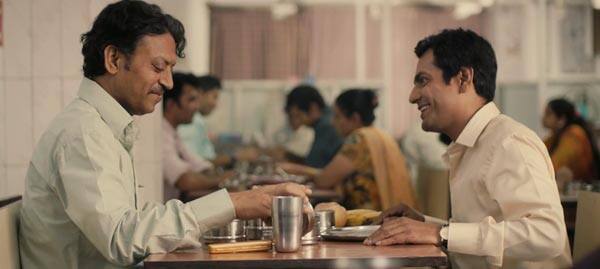 Dharma Productions and UTV Motion Pictures have join hands again for yet another film after delivering Yeh Jawaani Hai Deewani and Gippi
While watching the trailer of this film, all we could do is just smile. The Lunchbox revolves around a mistaken delivery in Mumbai's efficient dabba service.
Nimrit Kaur plays Ila, an unhappy middle class home maker who is trying hard to add a zing to her stale marriage by cooking exciting things for her neglectful husband. However, she is unaware that the lunch box she prepares for her husband is mistakenly delivered to a stranger named Saajan played by Irrfan Khan, an old man on the verge of retirement. When Ila doesn't receive any reaction from her husband, she writes a note and packs it with the lunch box hoping for the mystery to unfold.
And then begins a series of note exchanges between Ila and Saajan, who become friends and eventually, lovers.
Karan Johar, the producer of the film says, "I absolutely loved the film. Irrfan and Nawazuddin are brilliant, while Nimrit is waiting to exhale. I haven't enjoyed a love story like this in a long time. It's beautifully written and stunningly directed by Ritesh Batra." He adds, "I am excited about presenting the film in India. Not just the performances, even the storytelling is exceptional."
The Lunchbox has been declared as a winner among the critics at the Cannes Film festival 2013. The film also stars Nawazuddin Siddiqui as Saajan's office colleague.
So till The Lunchbox opens for you on September 20, treat yourself with this beautiful trailer.