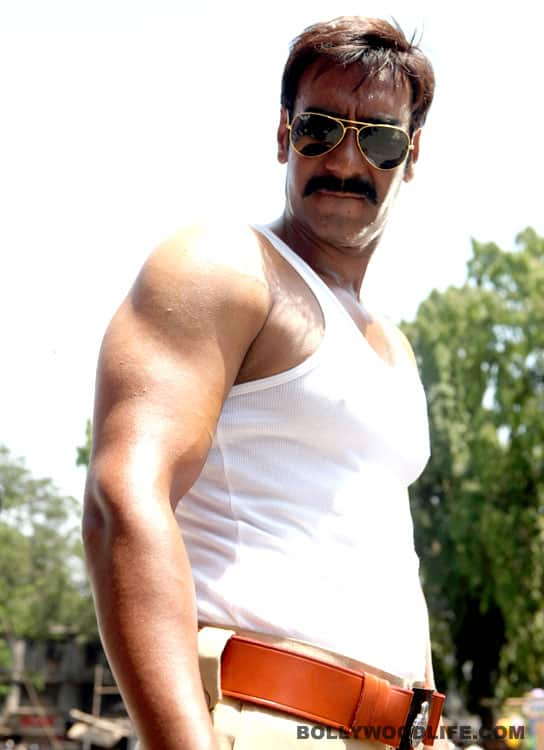 Dishoom is back with a bang, feels Cineswami. But has mainstream Bollywood reverted to being bankrupt of ideas?
It all began with Wanted, where Salman Khan played a larger than life hero. The humongous hit Dabanng followed and then came Ready. Now, obviously not content with Salman sitting atop the he-man throne, Ajay Devgn has delivered a knockout punch with Singham, which looks like it's going to be a blockbuster, going by the ecstatic response to the film. The original macho man of this generation, Sunny Deol, will soon be back with a Ghayal sequel. And Salman will look to consolidate his position with Bodyguard.
The unique thing about this phenomenon is that unlike the '80s, where there was a similar phase, it's not just the mango people (aam janta) devouring these films. Both single screens are multiplexes are reporting roaring business, meaning that both the masses and classes are in a mood to embrace escapist and populist fare. No doubt this will attract a slew of producers, directors and actors keen to jump on the gravy train and we'll get scores of films featuring action heroes in cinemas soon. However, like pride, trends go before a fall. There will be a glut of similar products in the marketplace and the public will soon tire of the sameness. And, like the '80s, these films will soon sink into self-parody. Remember Paap Ko Jala Kar Raakh Kar Doonga, anyone? This may already have begun.
Bbuddah… Hoga Terra Baap was meant to be a celebration of the Amitabh Bachchan of the '80s, but instead played out like a too-knowing parody and got trounced by Delhi Belly at the box office for its pains. Thankfully, for every action film there is a Delhi Belly or a Zindagi Na Milegi Dobara to provide diversity in cinemas.
The current craze for action owes a huge debt to the south Indian film industry, where it is a constant. It is true that the south has the most innovative stories around, but action never really went away. Ghajini starring Surya, or Sivaji and Endhiran starring the man who created the trend, Rajinikanth, are good examples.
Of the recent lot of dishoom flicksin Bollywood, every single one is a remake of a Tamil or a Telugu film, bar Dabangg, but in tone and spirit it could have been one. While it's all very well to buy remakes of films from our own industry rather than filching shamelessly from Hollywood, the real question is, has mainstream Bollywood reverted to being bankrupt of ideas? Are the writers prevented from expressing original thought and being forced to adapt southern hits?
Cineswami wishes that there were a few more Aamir Khans and Anurag Kashyaps to go around, so that a Bollywood writer's mind becomes a breeding ground for the imagination rather than a swamp that breeds remakes.
In the meantime, lie back, relax and enjoy the slap bang action being dished out on your screens. Dishoom is back with a bang, but a whimper is surely round the corner.