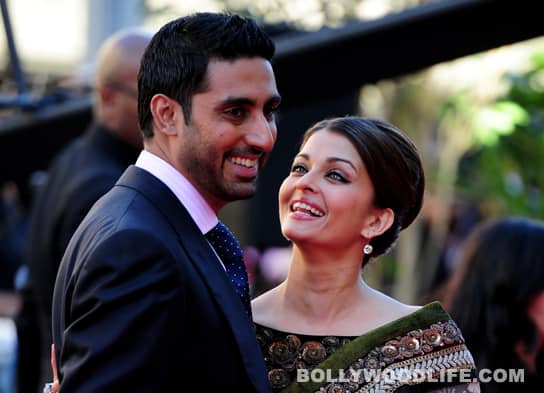 The brand new daughter has a lot to live up to. And who will she resemble – her parents, Aishwarya Rai Bachchan and Abhishek Backchan, her actor-star grandparents Amitabh Bachchan and Jaya Bhaduri Bachchan, or her more normal family, the Rais, the people who stay out of the limelight but are equally important in her young life?
Dear Bachchans, it's time you become a lil' more careful because Baby B is going to keep an eye on all your moves. And with such an impressionable mind around, we bet you want to lock certain traits of yours in the closet. Wanna know what we are talking about? Read on….
The Bachchan baby has finally arrived! But this is just the beginning. We wouldn't be surprised if we saw the Rais and the Bachchans huddled in a corner, engrossed in serious discussion. Wethinks they will be speculating about the baby's characteristics. Now that's pretty natural, right? After all, we are talking about a family that boasts of having a plethora of quirks to contribute to any new entrant. We're positive that the baby will turn out to be a perfect mix of traits, but what will they be? While you continue with your discussion, dear family, we have our two-penny bit to add, all in the spirit of good fun and high jinks….
From papa Abhishek Bachchan
While we do like Abhishek's sense of humour, we are a lil' worried about his daughter inheriting his acting skills or even his dressing style. We appreciate Abhi's sincere attitude towards his family and work, so this is something Baby B should definitely pick up from Paa.
From mommy Aishwarya Rai Bachchan
Aishwarya's looks win hands down! But without the plastic expression, please. We would like Baby B to inherit her mother's poise and ability to make smart moves. Also, we have seen Ash's tendency to pile on the pounds (measure of weight and not currency, mind you), so we hope her new daughter doesn't inherit that one!
From dada Amitabh Bachchan
We know Amitabh's baritone voice is his unique selling point, but let's not have it in his granddaughter, please, unless it is the feminine version. Amitabh's height – definitely, yes, in fact wethinks this is a compulsory trait if the girl is headed towards beauty-queen-dom. Also, we would like Baby B to inherit her dadaji's quest for knowledge, love for poetry and his respect for time and people. What about Big B's anger? Well, in this happy time, let's not go there.
From dadi Jaya Bachchan
Sweet little grandma perfectly fits the bill of being the traditional grandparent – slightly rounded frame, pepper grey hair and a perfect sari to go with all that. We can picture her sitting with her brand new granddaughter in her lap, telling the child stories with a moral. While we would be delighted to see Jaya's acting skills in the child, we keep our fingers crossed that Baby B does not take after grandma where height and reputed bad temper are concerned.
From nana Krishnaraj Rai
All we've heard about nanaji is that he was a marine engineer. So we hope that the granddaughter who will have been bestowed with good looks, height and knowledge grows up to love numbers too! But somehow Baby B taking after nana in looks seems a scary thought.
From nani Vrinda Rai
Charming nani is very sweet, we are assured. So while baby Bachchan picks the best from all, we hope she inherits nani's lovely nature. But, hold it, since the baby is all set to grow up in a world that borders the bitchy battle-lines of Bollywood, we hope that she balances this sweetness with a good amount of tact and strength.