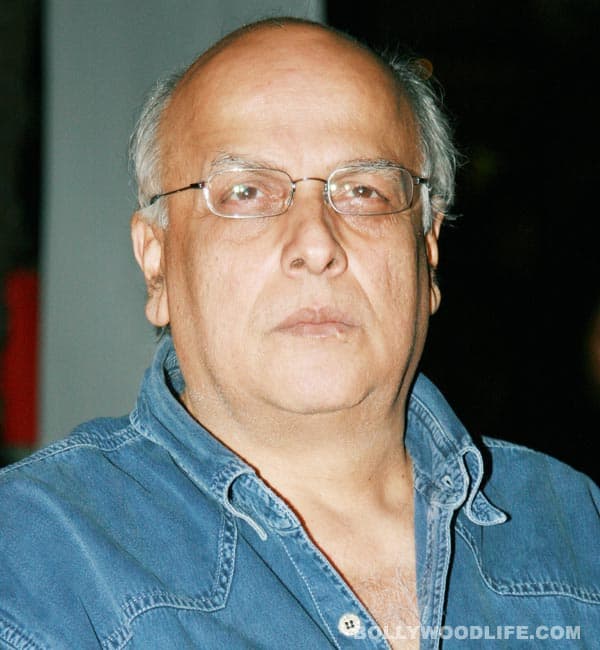 See the more serious side of outspoken director-producer Mahesh Bhatt, who taught Bollywood the art of making sexy films – his latest has nothing to do with man-woman relationships, but is a documentary on GM foods for which he has earned the most praise
Mahesh Bhatt is a study in extremes. On the one hand the veteran producer/director has been responsible for a movie like Murder, that trampled taboos in Bollywood and ushered in an era of unapologetic sex on the big screen. On the other, he dabbles in subjects that are way out of the Bollywood realm, from genetically modified foods to philosophy. The moment you feel you have figured him out, the immaculate talker that he is, his endless reserve of ideas, words and wisdom leaves you stunned! In an intense conversation the filmmaker tells BollywoodLife where all the contrasts in his personality spring from, and the many documentaries that he works on that a lot of people haven't heard about.
The documentary Poison on the Platter is radically different, not something we would expect from the maker of erotic thrillers! What drove you to make the film?
Don't forget that the maker of erotic thrillers that you are referring to has also made films like Arth, Saraansh, Daddy, Janam, Tamanna and Zakhm! There are three kinds of films I have made – films that I personally wanted to make, films that young audiences in 21st century India want to see, and those that as a nation we must be aware of – and Poison on the Platter is in this last but most important category. I have never been complimented for any single work of mine as much as for Poison on the Platter in the last four years. At airports, conferences, film festivals, through phone calls and emails, people from all walks of life, including politicians, media people and even spiritual leaders have complimented me for Poison on the Platter. However, credit for this brilliant film goes to my friend Ajay Kanchan, who not only wrote and directed it, but also educated me about the criticality of the subject. Whatever we two were told about GM food was so shocking that we just transferred that shock to the audience with a brutal honesty.
How long have you been aware of the work of the GM food industry, and who first told you about it?
Well known food security expert and my friend Devinder Sharma was the first one who made Ajay and I aware of GM food when we were in Guwahati for the launch of another documentary. That was the rags to riches story of a farmer from Assam whose philanthropy and the hospital he constructed saved lives of millions of poor people, especially women and children in Assam.
Who from Bollywood is aware of the GM issue? Why don't we hear more about it from celebrities?
While there's a welcome trend in Bollywood that more and more celebrities are throwing their weight behind important socio-development issues, ironically not many people in the film industry are aware of the issue of GM food and the perils of corporatisation of agriculture in a country where over 65 percent of the population is in the farming sector. It's a paradox that we do not have a place to store the food grain that we produce, yet 48 percent of our children are malnourished and millions of our fellow countrymen go to bed hungry every night. And the biotech industry keeps on harping for raising the food production.
Which are other issues close to your heart? Have you worked towards resolving them like you did with your documentary on GM foods?
The issues of communal harmony and alleviating suffering of people in the so-called insurgency affected areas are particularly close to my heart. Ajay and I have made several documentaries to address these issues. We made a film called Beginning of Life about the plight of people in Nagaland, Kya Hum Ghulam Hi Rahenge? about the situation of Muslims in India post Independence in general and during the Gujarat riots in particular. We have also made The Calamity That Was about the super-cyclone in Orissa, Bearing the Brunt about the impact of recurring droughts and mining on women and children in Rajasthan, The Epicenter of Recovery about the earthquake in Gujarat, Kya Mujhse Dosti Karoge, Andy Sir and Yours Forever about young people and HIV/AIDS, to name a few.
The companies in the business of GM foods are known to play Big Brother, and are quite forceful in the opposition of GM critics. Did you get your share of brickbats from them?
They did come to my office and I told them categorically that we do not have a problem in changing our position 180 degrees provided they can answer questions that we have about the need and safety of GM food. While they were quick to point out that Poison on the Platter is based on our ignorance and lack of understanding of GM technology, they are not willing to answer the questions that we have in front of the camera. In fact, I sent Ajay to Monsanto's headquarters in St Louis in the US, yet they did not field anyone to take our questions. In the last two years, we have exchanged dozens of mails with Monsanto, have written to Syngenta and Du Pont as well, but none of them are forthcoming. It's strange that they want to force their crap on our plate, but when as consumers when we ask questions of them, they turn their backs on us. All that we want to know from them in front of the camera is how they conclude the safety of the GM food and what regulations they follow in order to reach that conclusion.
Are your kids aware of this issue? What do they think?
Yes, of course they are aware of it and totally in support of the film that I have made and that's why my daughter Alia recently retweeted the link of the film.
Was it your association with your friend and philosopher UG Krishnamurthy that prompted this social streak in you, and your need to do something about it?
UG has undoubtedly been the biggest influence on whatever I am and have done. However, to some extent I would say that I was a lost man in search of a cause and it's my friend Ajay Kanchan who exposed me to some of the harsh realities of life. He took me to cyclone ravaged Orissa and there two, months after the tragedy, I saw corpses lying in the fields, waiting for a dignified burial – that sight changed me forever. I felt guilty of narcotising the country with heavy doses of entertainment, whereas the need of hour was to deliver the shocks that I can to wake the country from its slumber. Poison on the Platter does that.
You are known to support political parties during elections, like you did last year in the UP polls. What happens when the same governments decide to include GM foods on the national platter?
My support to political parties is for their ideologies and not for any vested interest. Don't forget that Jairam Ramesh as Environment Minister put a moratorium on the release of Bt brinjal after a countrywide consultation with all stakeholders. It's the UPA government that made the labe'ling mandatory on all GM food in the country and even the prime minister, who is often said to be in support of GM technology, has always emphasised that there should be no compromise on the safety of GM crops. I am also pleased that the Parliament Standing Committee on Agriculture unanimously recommended a ban on GM crops and I am told that among other things, they also viewed our film.