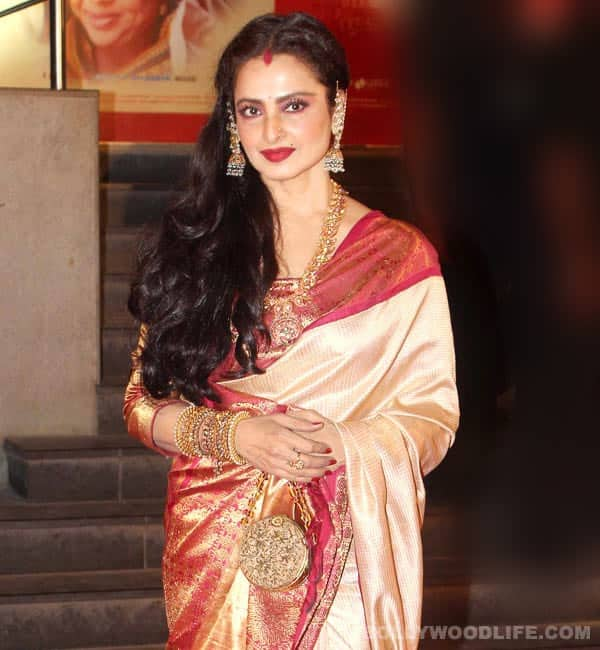 The evergreen diva is hardly seen at the Bollywood award functions. Read on to find out why…
So far the reclusive Rekha has made her presence felt at every awards function at the end of the year. Though she is nowhere visible for the rest of the year she is a regular at the awards ceremonies. That is now to change. According to a source close to the diva (as close as one can get to her) Rekha has decided to quit her annual outings during the awards season.
"I think it had begun to get a bit tedious for her. Year after year attending the same awards functions for the same organisers seeing the same faces, giving away one or two awards herself, doing a jig with Shah Rukh or Hrithik, kissing Ranbir and Vidya Balan on the cheeks… it made no sense any more to her. Not at her age. She's going to be 60 this October. At least, that's the official age," the friend chuckles , tongue-lodged-firmly-in-cheek.
Also, says the friend, the comments on her Kanjeevaram look had begun to rankle Rekha's self-esteem. Says the friend, "See, the finery and jewellery are her trademark style of dressing up. The younger generation finds it hard to identify with her bridal look. There are a lot of jokes being cracked secretly about how she wears the same clothes to every function. Even the jewellery, they said, was the same. All this made Rekha realise the effort was no more worth it."
So as her annual appearance dwindles do we not get to see the elusive beauty in public at all? The good news is that Rekha is in search of solid roles again. Says the friend, "She wants to work with Zoya Akhtar, Sanjay Leela Bhansali, Imtiaz Ali and Ritesh Batra. She has sent out feelers to three of these directors. The fourth she doesn't know how to reach. She came close to being cast in Zoya's Dil Dhadakne Do. But then she didn't want to be cast as Ranveer and Priyanka's mother."
But one thing is for sure, awards or no awards, you can't write Rekha off. She will remain visible through one medium or another.