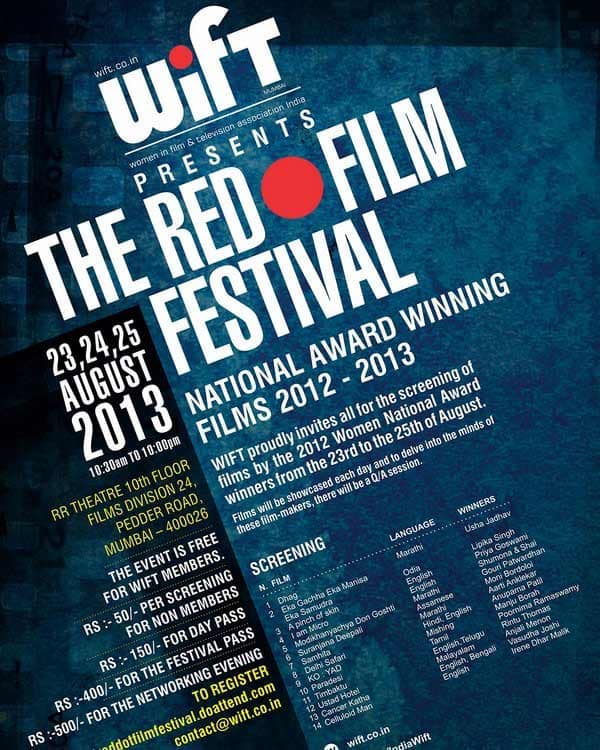 Movies such as Dhag, Celluloid Man and Paradesi will be showcased in a first-of-its-kind film festival in Mumbai
Are you a film buff who always wondered where to catch National Film Award-winning films that are recognised each year? The Women in Film and Television (WIFT) India is giving you a chance to view some of these movies at a special event – The Red Dot Film Festival.
To be held from August 23-25, 2013 at Films Division, Mumbai, the special fest will screen films of women that won the coveted government award for 2012. An interaction with winners will follow each showcase.
A release from WIFT says, "In 2012, women from all across the nation won the National Award in films for fields as diverse as costume design, voice narration, editing, and so on. WIFT India gives you the opportunity to watch these films for the first time in Mumbai and to meet the National Award winners as they attend the screening. We invite you to watch their films, understand their process and engage with them at The Red Dot Film Festival."
Movies such as Celluloid Man (Irene Dhar Malik), Paradesi (Poornima Ramaswamy), Dhag (Usha Jadhav), A Pinch of Skin (Priya Goswami), Ustad Hotel (Anjali Menon) and Delhi Safari (Anupama Patil) are among those that will be shown.
Seats for screening will be allotted on a first come, first served basis from 10am to 10pm next weekend. Registrations are open for delegate passes. One can also participate in a networking evening on August 25. For more details, log on to wiftreddotfilmfestival.doattend.com or write to contact@wift.co.in.
ALSO READ:
Mumbai roots for women in cinema at international film fest MWIFF 2013
Ladakh International Film Festival 2013: What's happening this year?