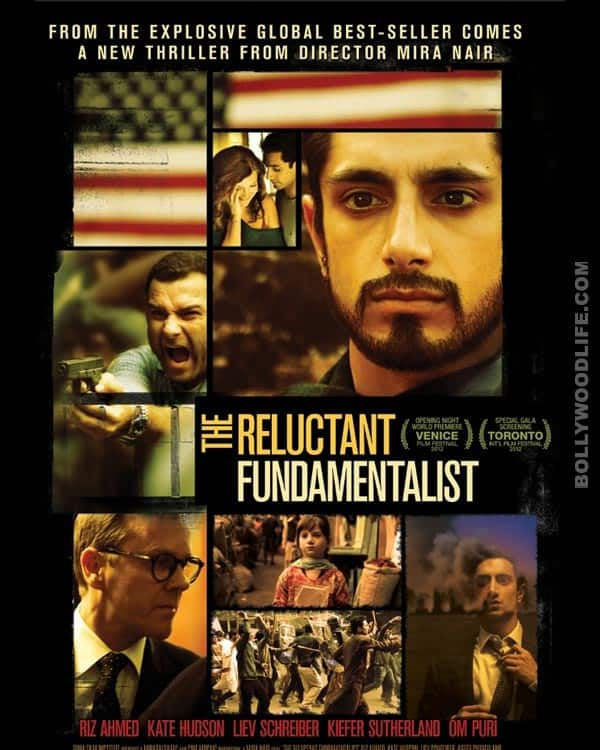 Mira Nair's film on Mohsin Hamid's book is good cinema, but doesn't live up to expectations
Cast: Riz Ahmed, Kate Hudson, Kiefer Sutherland, Liev Schreiber, Om Puri, Shabana Azmi, Imaad Shah, Chandrachud Singh, Meesha Shafi
What is the event at the turn of the century that will stay in the minds of the Americans? The September 11 attacks, of course. You would think that the election and re-election of Barack Obama as President and the death of 9/11 mastermind Osama bin Laden would have overtaken that traumatic event on the global big-news list. But world over, countless feature films and docu-dramas continue to be made against the backdrop of the 2001 attack on the United States of America.
The Reluctant Fundamentalist's (TRF ) premise – that all Muslims are not terrorists and therefore shouldn't have been tortured in the aftermath of 9/11 – is something Bollywood has covered too, most famously in Kabir Khan's New York and Karan Johar's My Name is Khan. The Indian audience has already seen the unfairness and felt for protagonists like Changez in TRF. So Mira Nair's film doesn't offer a new perspective on that aspect of the terrorist attack.
The film is a story in flashback – of Pakistani professor Changez Khan (Riz Ahmed), a bright Princeton scholar who shines at a Wall Street company called Underwood Samson under the mentorship of Jim (Kiefer Sutherland). Changez has a rich photographer girlfriend Erica (Kate Hudson), but the relationship is complicated, she is forever guilt-ridden at having killed her earlier partner in a drunk driving incident.
Nonetheless, all is cool in Riz's high-flying corporate life…until 9/11 happens, just when he has been promised a promotion. Slowly, his entire world threatens to turn upside down, as frequent checks at airports (read: stripping), nasty racist comments on the street and alienation in the office become common occurrences. His relationship with Erica is affected too; she feels she 'once had a Pakistani'.
Soon after, Changez visits Pakistan for his sister Bina's (Meesha Shafi) wedding. Back in the US again, he is confused and dejected with the atmosphere; everyone seems to hate Muslims and Sikhs, and his colleagues suggest that he shave off his beard or be prepared to face the consequences. It is Changez's meeting with an author in Istanbul that gets him thinking about what he's doing for a living in the United States and whether or not it's the same as Islamic terrorism.
Surely, the one message that stands out in TRF – but not strongly enough – is that capitalism is just another form of terrorism, which Changez seems to realise over his adventures with fundamentalism. So whether he is operating in Pakistan as an aide to the mujahideen, or in New York as associate director of Underwood Samson, it's the same: both 'corporations' are ruthless to their people and the business. That, in effect, is the message of the movie. But it takes a hostage crisis and killings for Changez to understand.
The handsome Riz Ahmed stands out as the main protagonist, with a range of emotions on display. But towards the end, he gets a bit monotonous, much like the film does. Kiefer Sutherland and Liev Schreiber are notable performers. Om Puri, Shabana Azmi, Imaad Shah, Adil Hussain, Chandrachud Singh and Meesha do not have much to say or do.
Music by Michael Andrews goes with the movie's theme. The cinematography by Declan Quinn is excellent, but editing by Nair's favourite Shimit Amin (he's also a Bollywood director) could have been crisper to reduce the spells of dullness onscreen.
All in all, The Reluctant Fundamentalist is an A-class film based on a book, cinematically brilliant, with decent performances. But somewhere there is a feeling that in trying to depict the confused fundamentalism from Hamid's book accurately, the film itself is rather reluctant. We would have liked to see Nair go the whole hog and make a moving drama in her own interpretation, as an acclaimed director of gems such as Salaam Bombay! and Monsoon Wedding.
Rating:
out of 5
Reviewed by Shweta Parande
* Poor
** Average
*** Good
**** Very good
***** Excellent