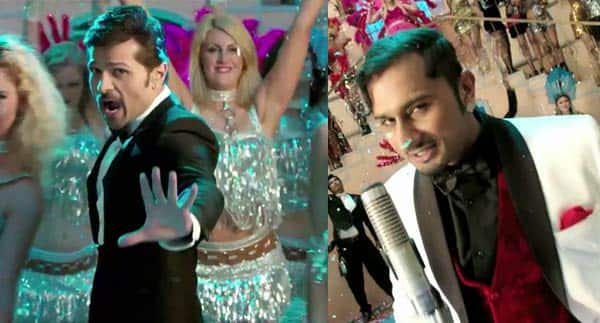 When Hemant Kumar sang Hai apna dil toh aawaara song for Dev Anand's Solva Saal little must he have known that someday it would be remixed for a Himesh Reshammiya film
The Xpose's latest song is a modern rendition of Hai apna dil with a twist from Yo Yo Honey Singh and a punch from Himesh Reshammiya. While Yo Yo adds glamour to this soulful track with his trademark rap, Himesh fails to impress us, thanks to his nasal twang! Unlike the film's poster, plot and earlier numbers that were lifted from Hollywood and Bollywood, this song is a straight away remix of Dev Anand's hit song. While we like what Honey Singh brings to this number, how we wish the other voice was still of Hemant Kumar. The film that is set against the backdrop of '60s, fails to create the impact. And even the cool-as-cucumber Honey Singh models himself on the legendary Pran, he fails to bring the intensity of the star villain of Bollywood and is in fact extremely comic.
Himesh doesn't just fail as a singer, but also a composer who has ruined a classic number. And why is Mr Reshammiya's this bhool, unforgivable? 'Coz he also has attempted and failed miserably to do justice to Helen's Mehbooba song from cult film Sholay.
Here watch the Hai apna dil song from The Xpose only for Yo Yo Honey Singh, the saving grace in this otherwise ignorable number.