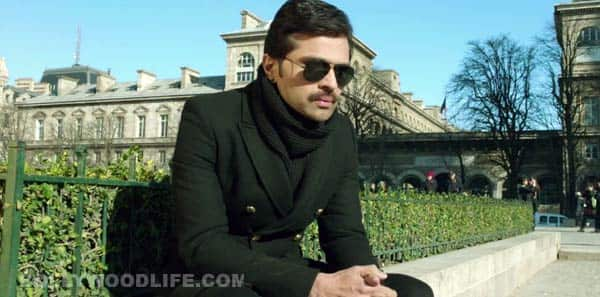 He is back with a popular hum that only he can create with those gifted nostrils. After a long hiatus Himesh Reshammiya comes up with yet another 'massy' track featuring himself, that is just waiting to be burst the charts! Take a look…
The Eiffel tower sparkles with its incredible luminosity, the squeaky clean Parisian streets and the breathtaking architecture provide a stunning visual treat, and then you get a weepy Himesh Reshammiya-reduced lesser than half his original size-placed in the surreal setting. Wearing a oversized trench coat that makes him look like a stick, Himesss…err Mr nasal singer employs his nostrils to best effect. He is sad, grey and longing for love from a lady who walks in and out of the frame in couture creations. To add more commercially-wise tadka, Himesh collaborates with Yo Yo Honey Singh to make this song from his movie The Xpose sellable.
A recipe for a sure-shot chartbuster Reshammiya gives all the possible avatar of his multi faceted personality. The passionate lover, the mind numbingly surila singer and even the real life superman who comes to rescue his true love-all avatars rolled into one. Don't believe us? Watch this number and we are sure the visuals will get you talking!