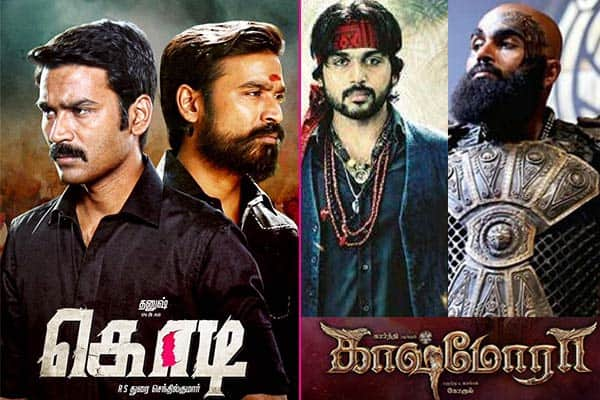 While we have the mighty clash between Ae Dil Hai Mushkil and Shivaay in Bollywood, get ready for a double dhamaka down South as well. It's the ultimate bonanza, two known faces from the south are bringing to you on October 28. We are talking about the mighty clash between Dhanush's Kodi and Karthi's Kaahsmora! Yes, both films according to reports are set for a grand Diwali release and we can't wait. But you know the best part? Both films have the lead actor play dual characters in their films! Here are all the details – In Dhanush starrer Kodi, the actor will be seen a never seen before double. He's playing twins, one of who is a teacher and the other is a politican. It's a complete riveting political drama with a massy appeal. While the looks are not too distinct, we are hoping to see a stark difference in the character portrayals. The movie also stars Trisha and Premam actress Anupama Parameshwaran. At the press meet, she mentioned how excited she was to be working with Dhanush. The real reason for Dhanush's double role is his knack for doing class and mass roles as stated by the director. Well that's true. There's nobody as versatile as Dhanush. So these two heroes ( Ambu and Kodi played by Dhanush) are competing with two other heroes played by Karthi in the larger than life mythological fantasy drama – Kaashmora. Also Read: Kaashmora Trailer: Karthi's two distinct looks stand out in this visually spectacular period drama
Set against two alternate universes, Karthi plays the modern age Kaashmora who has some unfulfilled destiny in one world, and in the ancient, mythological  world, he plays Rajanayak, the terrifying , malevolent warrior. Both his looks are distinct, while one is more causal and lovable, his warrior avatar makes him unrecognizable. From looks of the visuals, the film is having a Baahubali hangover, courtesy its detailed, epic war sequences. The movie alos stars Nayanthara as the initimidating Ratnamhahdevi and Sri Divya who plays a role in Kaashmora's world. Looks like this Diwali, we don't have just have 2 heroes but 4 of them competing with each other. Also Read: Kodi trailer: Dhanush's twin act is a double dose of fun, romance and mass appeal!
Both movies are currently in line to be cleared by the Censor Board. Hoping both movies will release on the same day and make for a big smasher of a treat. So which movie are you rooting for? The riveting political drama or the mythological drama? Or both? Do tell us whose side are you on this Diwali, in the comment box below.