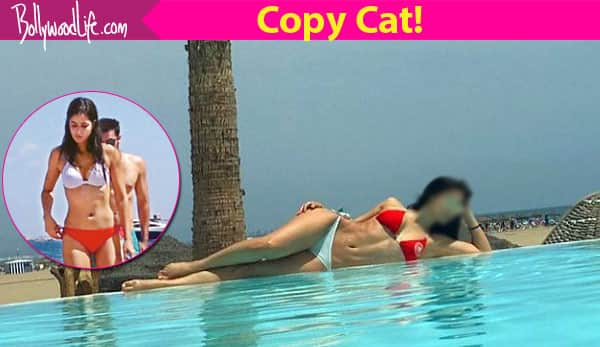 Remember that red and white signature bikini photo of Katrina Kaif that went viral a few years ago? The actress was on a holiday with her then boyfriend Ranbir Kapoor and was snapped by the paparazzi on the scenic beaches of Ibiza. There was a lot of drama following the photo coming out. But all that is in the past!
However, we had to jog our memory and revisit the iconic photo courtesy a certain Elli Avram. The Bigg Boss starlet recently visited Spain where she flaunted the same colour combination. The bikini snaps of Katrina Kaif had gone viral. It was not any other two piece snap. The lady was clicked furtively while on a holiday in Ibiza in Spain with Ranbir Kapoor. Till then, the two were in denial of them being in a relationship but the pictures put every doubt at rest. We know how furious Kat was post the infamous leak. Later on, she joked if she had known that she was being clicked, she would have worn a matching bikini instead.
Years later, the Internet is abuzz with Elli Avram's bikini snaps. The Swedish-Greek beauty is a certified hottie and has a body to die for. Incidentally, she has also posted the snaps from Spain. Elli looks sun-kissed, super toned and relaxed as she flaunts those deadly curves in a red and white bikini. There is a slight difference. Kat wore a white bikini top while Elli opted for a red one. The Mickey Virus actress has also posed seductively and looks like a perfect pin up girl.
We cannot believe that Kat and Elli coincided so much with respect to beach and bikini. What is about the colour red? Is it Spain's La Tomatina effect that has spilled on their two-pieces? Or is it just too much salsa sauce. Obviously, wearing a swimsuit is no big deal for any of them. Both have had a western upbringing, possess fabulous bodies and love beaches. Kat's recent outing in Baar Baar Dekho in that tangerine swimsuit garnered her eyeballs too. And Elli's recent shoot will inspire a number of women to hit the gym. We wonder how Salman Khan will react if someone points out that both his protégés have sported identical looks. It is mere coincidence though that both Elli and Katrina have worn identical swimsuits. Also Salman's connect with both Kat and Elli is public knowledge, but we guess he would be partial towards his ex-girlfriend if he had to pick one of the two.
(Also Read: Salman Khan defends Katrina Kaif-Ranbir Kapoor's bikini pictures!)